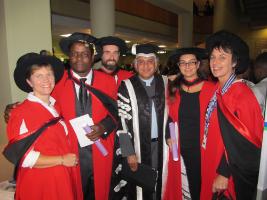 Sequel to the 'celebrating 'four' PhD graduates in 2013 - part one' article, the entire Environmental Learning Research Centre (ELRC), Rhodes University community of practice is proud to present to you her newest and outstanding 'Dr's in the house'. Their significant contributions to environmental learning and Education for Sustainable Development (ESD), including remarkable comments from their examiners are as follows:
Dr Clayton Zazu:
Working with Habermas's theory of nation state formation and critical hermeneutical research, Cryton investigated the representation and use of indigenous heritage constructs in post-colonial heritage education in southern Africa. In-depth case study work combined with policy and critical discourse analysis allowed him to probe issues of inclusivity and marginalisation. He found that dominance of selective political discourses used in post-colonial nation state formation paradoxically exclude and hinder wider transformative potential of heritage education for social justice and sustainable development. All three examiners commended the study, commenting on its 'high quality' and 'exceptional relevance'.
Dr Charles Chikunda:
Drawing on socio-cultural, feminist and capability theory, Charles investigated the topical issue of gender exclusion in science, mathematics and technology subjects in teacher education using case study research. Viewing pro-active teacher education responses to such exclusions as necessary in a risk society, where advanced use and understanding of science and technology is increasingly needed for survival, adaptation and sustainable development, Charles made interesting and important contributions to discourses of educational quality, social justice and inclusion. All three examiners commented on the study's creativity, and its important contributions to policy and practice.
Dr Ingrid Joan Schudel:
Using Bhaskar's dialectical critical realism as lens, Ingrid investigated how teachers facilitated emergent active learning processes in rural, under-resourced foundation phase classrooms in the Eastern Cape after attending a Schools and Sustainability teacher education programme. Through this work Ingrid was able to identify features of transformative environmental learning praxis in her case study schools, and to re-articulate active learning theory for environmental education. Examiners all complimented the 'high scholarly quality' of the work, noting especially its complexity, methodological innovation, and the empirical richness of the research.
Dr Dylan Kenneth McGarry:
Using practice-based enquiry and arts-based social sculpture approaches to social learning, Dylan challenged dominant ways of coming to know the world, how it is studied in academia, and how we learn about it in social contexts. Using the hard hitting metaphor of ecological apartheid as referent, he set about developing, testing and expanding national and global use of an empathetic and innovative 'Earth Forum' pedagogy for ecological citizenship that changes our understanding of the relationship between imagination, freedom and education. As one examiner put it "this degree ought to be granted 'magna cum laude', meaning 'with great honour'".
Some photographs of the day: