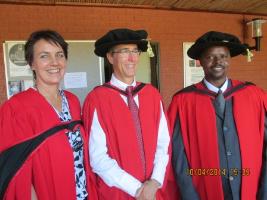 ‌‌
Dr Daniel SABAI (

MSc, Wageningen University (Netherlands).
Daniel's journey with environmental science began with undergraduate studies in his home country of Tanzania and continued when he became a lecturer of Geography and Environmental Science at Dar Es Salaam University's College of Education. This road brought him to South Africa, where Daniel investigated the significance of abstraction in the social learning processes, and its potential contribution to the development of community-based management of coastal and marine resources in the Eastern Coast of Tanzania. Among other things, Daniel's research interests include: urban environmental management, waste management and public health and indigenous knowledge systems.
In his PhD, through participatory experiential learning research, Daniel supported communities on the East Coast of Tanzania to abstract and represent their traditional ecological knowledge of fisheries and mangrove ecosystems. Together they developed ecological monitoring indicators that could easily be used by communities. This addressed the problem of previously inaccessible western scientific indicators that were not being used. The study offers a new critical realist methodology for indicator development involving communities and scientific institutions. Examiners praised the study for its creative social learning approach, and for its relevance to both scientific and local communities.
‌‌‌
Dr David LINDLEY (BSc (Hons) Zoology (Rhodes University), MEd Environmental Education).
For over 18 years, David Lindley has worked for the not-for-profit organisation, the Wildlife and Environment Society of South Africa. He manages the Mondi Wetlands Programme (MWP), which supports social change and wetland sustainability practice. David's PhD research supported the expansive teaching of employees from the Mondi corporation. His work involved crossing disciplinary and job description boundaries to identify and analyse factors that inhibit the integration of wetland sustainability practice, and then collaborating on solutions. The research is based on social learning, Engeström's Expansive Learning Theory and third-generation Cultural Historical Activity Theory. The purpose of the research was to better understand informal adult learning processes and institutional factors that can support the initiation of social change for better wetland management.
Through a five year participatory learning research process, David investigated improved wetland management in a major forestry company in South Africa, documenting and observing the changes in wetland management and organisational learning that took place. The study not only provides new insight into the tacit and explicit changes that can result from expansive social learning in organisations, but also provides new knowledge of the role of social learning in environmental management. Examiners praised the study for being a well crafted socio-technical study that 'contributes significantly' to knowledge of social change and development.
Dr Jane Bosibori OTEKI
Studying a curriculum innovation that was developed by international experts in a Kenyan University, Mrs Oteki noted that it was not producing the intended Natural Resource Management expertise. She thus conducted an in-depth study of the program and its outcomes, exploring changes that would produce the necessary competence and recommending a re-orientation of the curriculum to the UNESCO framework of Education for Sustainable Development. An international examiner found the scope of issues considered in the thesis to be impressive, rating it an excellent piece of scholarly work.
‌‌‌

MOHANOE, Elma Nthabiseng (M.A. (Pennsylvania).
Her degree was by thesis and the title of her thesis is "Learning pathways of key occupations relevant to sustainable development in Makana Municipality". Nthabiseng is from Pretoria, South Africa. Her research aimed to empower others to improve their quality of life. Educational counselling, training and development is Nthabiseng's forte. She is passionate about equipping people to change their own lives through environmental education.
‌
‌‌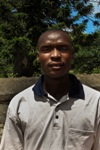 MPHINYANE, Andani

(B.A. (Venda).
His degree was by coursework and thesis. The title of his thesis is "Learning pathways for improving rehabilitation practices in the mining industry". Andani is from Limpopo, South Africa. Having grown up in a rural area and spent much of his professional life producing geological maps, Andani has seen the impact of industry on the environment. Through his research, Andani understood more about the environmental impact of industry, especially mining.

‌
MUKWAMBO, Robson

(B.Sc. (Hons) (Zimbabwe).
His degree was by coursework and thesis. The title of his thesis is "social learning in Community Based Natural Resources Management Project (CBNRM): A case study of Chipembere gardening project in Zimbabwe". Robson is from Kwekwe, Zimbabwe. As an Environmental Education officer for WEZ (Wildlife Environment of Zimbabwe), Robson has worked with communities learning from their indigenous knowledge. Through his master's research, Robson formalised his understanding of Indigenous Knowledge Systems (IKS) and looked at how they can be incorporated into environmental education programmes to achieve more sustainable utilization of natural resources. He is passionate about diversity and enjoys outdoor learning.

‌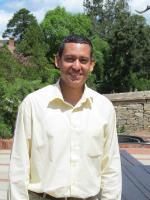 EMILIE, Shane Antonio (Nat. Dip. (Education) (Seychelles).
His degree was by coursework and thesis. The title of his thesis is "An investigation of stakeholder participation and learning in two schools within the Seychelles Eco-School programme". Shane is from Seychelles. He is currently the national coordinator of the Seychelles Eco-Schools programme at the Ministry of Education, Seychelles. He is responsible for the coordination of the programme in all schools and working in close collaboration with all local and international organisations supporting the implementation of the programme in schools. Shane's research interest revolved around learning more about the current situation of how stakeholders are learning to participate and participating to learn within a primary school context and a secondary school context in relation to the Eco-School programme. He was interested in finding out some of the factors that are enabling and constraining effective participation, and he achieved it.
To view the graduation pictures go to the Environmental Learning Research Centre's facebook page
https://www.facebook.com/pages/Environmental-Learning-Research-Centre/641692732566847