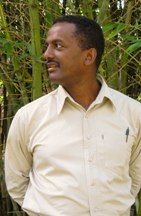 MELCA - Ethiopia's e-newsletter for May 2014-Vol 1 is now available. MELCA-Ethiopia, was born out of the African Biodiversity Network (ABN) (www.africanbiodiversity.org) in 2004. MELCA's founders are environmental practitioners, foresters and lawyers. They have extensive experience, both nationally and regionally, in working on issues related to environment and culture. MELCA-Ethiopia formerly known, as MELCA Mahiber is a non-governmental organization registered under the Charities and Societies Agency of Ethiopia with a certificate no. 3408 as an Ethiopian resident charity.
MELCA means ford in both Amharic, the national language, and Oromo the next most widely spoken language in Ethiopia. A ford is a crossing point on a river and in this instance the name is used symbolically – our work being about connection. In a world evermore fragmented by social unrest and destruction of natural resources, MELCA holds a holistic view. It works to connect culture and environment, youth and elders, traditional ecological knowledge and indigenous lifestyles and modern western thought and ways of life. In English MELCA is an acronym for Movement for Ecological Learning and Community Action. In MELCA's philosophy ecological learning is holistic being participatory and experiential while the outcomes it espouses are learner empowerment and democracy.
MELCA - Ethiopia's e-newsletter for May 2014 which is now available covers the following issues:
- A community seed bank (CSB) inauguration at Telecho: MELCA-Ethiopia has built its first Community Seed Bank (CSB) in Telecho Kebele of Welmera woreda in Finfinne Area Special Zone of Oromia National Regional State. A spectacular inauguration ceremony of the CSB has been held on the 30th of November 2013 (download newsletter to read more).
- MELCA-Ethiopia opening a new frontier in Gambella Region: Majang zone is one of the South-eastern parts of the country endowed with rich bio-cultural diversity. Recorded evidences show that the Majang forest consists of a total of 257 vascular plant species representing 90 families (download newsletter to read more).
- New life for the communities of Adere village in Telecho: (download newsletter to read more).
- Ato Mulatu Tekle of Bale:(download newsletter to read more).
To download and read the above issues in full click MELCA's newletter Vol 1‌
For more information about MELCA-Ethiopia go to http://www.melcaethiopia.org/