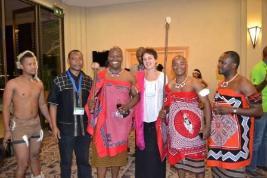 The 32nd Annual EEASA conference 2014 was hosted by the University of Namibia (UNAM) and the Namibian Environmental Education Network (NEEN), in Windhoek from the 9th to the 12th of September 2014. It was open
to all who share an interest in improving practice, research, policy and support of Environmental Education/Education for Sustainable Development (EE/ESD). This year's conference was quite significant in that it fell at the end of the UN Decade on Education for Sustainable Development (UNDESD) 2005-2014. The theme was "Reflections on the current and emerging ESD issues and practices informing the post DESD Framework Programme".
The conference was supported by the Ministries of Education; Environment & Tourism; Agriculture, Water and Forestry, the City of Windhoek, Environmental Investment
Fund, NAMPOWER, NED BANK Namibia Limited, UNESCO, Namibian Breweries, and many other partners who made it one of the most exciting and fruitful EEASA conferences. There were also side events run by the UN University's Regional Centres of Expertise and SWEDESD's Fundisana Online programme.
It was befitting that the plenary was addressed by Mr A Leicht, Chief of Section, Education for Sustainable Development, UNESCO who outlined the transitioning from UNDESD to GAP. The keynote speakers were Prof. Paul Pace, the Director of the Centre for Environmental Education & Research, Fawwara Centre at the University of Malta who is a forerunner in emerging ESD issues and practices in the post-DESD framework and Prof Heila Sisitka, Professor, Murray & Roberts Chair of Environmental Education; Director, Environmental Learning Research Centre and Director of the Rhodes University Post- Graduate Studies Centre. Prof. Sisitka has also been involved in matters of EEASA as a Council member and the editor of the only accredited EE journal in southern Africa (SAJEE). It was appropriate that her keynote started with a broad review of EEASA's progress on Learning and Agency in Communities of Practice 'up to, into and through' the GAP (Global Action Plan). Their presentations are available on the EEASA website: http://www.eeasa.org.za
Rhodes University was well represented by a large contingent of ELRC MEd & PhD students, and professors who presented in plenaries and parallel sessions.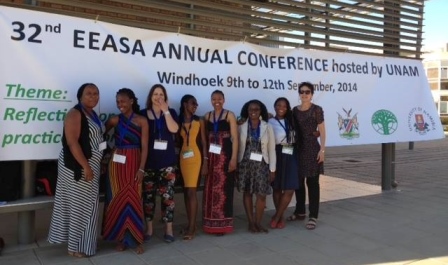 A presis of their presentations and experiences has been outlined below:
Margaret Burger a Masters student's presentation was based on her pending thesis 'Working for Ecosystems, a story of the emergence, of learning pathways in SMME development'. The learning pathways referred to are in the work place and contribute to poverty alleviation, climate change and ecosystems based adaption. Durban is located within the eThekwini municipal area along the eastern coastline of South Africa. Climate change mitigation for the city is strategically focused within the Climate Change, Biodiversity and Resilience Department. The municipal programme of Working for Ecosystems is now in its eighth year with a focus on restoring ecosystem services and biodiversity in the context of urban sustainability and green job creation. WESSA, an environmental NGO, is tasked with the implementation and reporting of Working for Ecosystems to the Restoration Ecology Branch located within Development Planning for eThekwini. This in turn enables the Development Planning Department to comply with governmental policy.
Working for Ecosystems has evolved over time from a top down, worker and field manager relationship to SMME contractors who engage the work force and take responsibility for the practice of alien plant removal of their teams engaged in work in local biodiversity hotpots. The study is focused on the people in the programme, their learning pathways in the practice of invasive plant removal and emerging competences as SMME's. Narrative Inquiry as methodology is applied
, enabling individual and collaborative stories of learning. This research is located within the role of EE/ESD in the transition to the green economy. She says:
'As such I attended the 32nd EEASA Conference in Namibia this year. This resulted in a presentation and valuable exposure to the proceedings on an academic level. The key note speakers and the collaborative learning was a highlight that has resulted in a personal
desire to work
within the SADC in future. The conference broadened my understanding of the context of EE as a research field, as advancing learning pathways to sustainable livelihoods in formal learning and in community contexts. Going forward, the annual Weedbuster Week Workshop for eThekwini will be held on 7 October next week. I have assisted with data from the research for the Working for Ecosystems/WESSA presentation. The focus is on the people with the programme and will show case how individuals are able to assist in combating planetary boundaries. The young SMME depicted above is 'Thinking Imvelo' and will be part of the proceedings as an inspirational example of youth and communities making a difference." Margaret Burger
Aphiwe Zona Dotwana a Masters student presented on Factors that constrain or enable black female botany and zoology honours students in transitioning to Masters Studies in the Eastern Cape, South Africa universities.
Christina Chitsiga presented on 'an examination of teachers' strategies for mediating the construction of environmental content knowledge in Grade 11 life Sciences.
Louine Boothway a Masters student presented her work on Citizen Science. The topic was 'An evaluative case study of social learning knowledge production and change'.
Sheraine van Wyk a Masters student presented on 'Exploring learning and emergent environmental citizenship in citizen science'. This was a case study of a voluntary frog monitoring group.
Morakane Madiba also a Masters student attended with the aim to practice presenting in front of diverse communities, but most importantly to present and share
arguments and findings of my study so as to receive feedback from a range of people in order to improve her study. The topic of her presentation was "Investigation of th e role of training in the first year of a 2.5 year incubation model to strengthen GIS interns towards full participation in workplace occupations: a case study of GroenSebenza Internship Programme" in South Africa.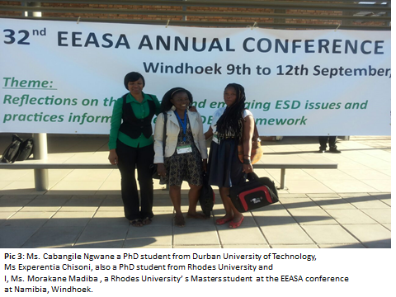 Experencia Madalitso Chisoni also a PhD student presented on the 'exploration of improved cook stove (ICS) programs
in Malawi as a strategy to climate change – a sustainable development response: challenges and prospects'.
Tichaona Pesanayi a PhD student, EEASA Council Member, and Manager of the SADC Regional Environmental Education
Programme (SADC REEP) ran workshops on 'Reflections on the current and emerging ESD issues and practices informing the post DESD framework Programme' and Role of EEASA nodes in the southern and east African region; co-presented with others on Climate Change adaptation capacity development in Transfrontier Conservation Areas: processes and grassroots transformation; and an oral paper on cross-boundary Learning of water harvesting in water stressed dry-lands through building apprenticeship learning and citizen science tools which is part of his PhD study.
Sirkka Tshiningayamwe and Zintle Songqwaru both PhD students presented an oral paper on the Fundisa for Change programme under the Conference sub-theme: Promoting policies and capacity building of educators and trainers in ESD/EE. One of the key sub-objectives of the Fundisa for Change programme is 'Capacity Building'. This objective is focused primarily on the development of teacher education capacity, which in turn will be oriented towards teacher capacity development for transformative environmental learning in the schooling system. The presentation focused on how teacher education capacity within the programme. Partners who participated in a questionnaire on how they developed through being partners in the programme, shared that they developed professionally through developing the Fundisa for Change materials, attending 'Training of Trainers' workshops and through designing and implementing accredited capacity building courses for teachers.
"What is unique about an EEASA conference is that it is a combination of academics and environmental practitioners. Presentations and discussions are composed of how theories of learning are applied in how people engage with Education for Sustainable Development in formal and informal education settings as well as how people are practically engaging with the theories around how people learn and change their practice, i.e. taking action, turning theory into practice." Zintle Songqwaru
Mumsie S Gumede a PhD student and Secretary General of EEASA Council presented a conceptual paper on "The promise of the Green Economy for the educationally marginalise youth in South Africa". This is based on the core of her study. The paper sought to explore a landscape of the role of education in skills development within the South African green economy to open access to employment. The layered exploration lenses included defining educationally marginalised youth in the context of the study; the education frameworks for lower levels of skills that are assumed to give access to a predominantly secondary economy; and the assumed greater degree of employment or self-employment. These were pulled together through a framework that mirrors the Green Economy as the labour demand side and skills development as the labour supply side.
Vanessa Adesuwa Agbedahin one of our PhD students, a registered delegate unfortunately could not make it to the conference. The title of Vanessa's abstract is "Position-practice system and EE/ESD mainstreaming in African Universities." Her paper revolves around the understanding of the continuous interplay between human agency and social structure, the need to empirically investigate and analyse the 'point of contact' between the two entities which is a mediating system called the 'position-practice system'. The paper explores how the 'position-practice system' of university educators in Africa (human agency) can enable and constrain effective mainstreaming of Education for Sustainable Development (ESD) in African Universities (social structure). Her PhD research uses the participants of the International Training Programme on ESD and the Southern African EE/ESD MESA Chairs as case studies.
Worth mentioning is the fact that many registered delegates and keynote speakers from Nigeria and the Democratic Republic of Congo, could not attend this year's EEASA conference because of visa challenges, following the Ebola outbreak in West Africa. This affected especially the UNU RCE side event.
Also of great interest was the number of Rhodents who were at the conference:
Dr Abel Atiti Barasa, UNU IAS, Japan who was leading the UN RCE side-event; Dr Jim Taylor, Director Education at WESSA who co-presented on RCEs at the plenary with our own Prof. Rob O'Donoghue; Dr Tsepo Mokuku from the National University of Lesotho; Dr Ayub Macharia Ndaruga, Director Environmental Education, Information and Public Participation, NEMA, Kenya who also launched his book, "Innovative Environmental Education Methodologies- Case Study Analysis on Practice"; Dr MJ Ketlhoilwe from University of Botswana who is the President of EEASA; Dr Shepherd Urenje, SWEDESD; Dr Daniel Babikwa, Director of NEMA, Uganda; Dr Mucha Tongo, UNISA;
‌An amazing number of children were part of the conference, attending sessions, presenting at plenaries and enjoying excursions with such intent.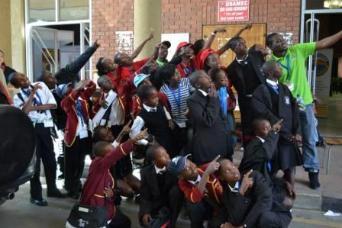 ‌
Council had to seriously consider its future conference design. In the true sense of the EEASA community, fun was had by all during the Cultural Gala dinner where the delegates were entertained to grand Namibian cultural dance and song, hosted by the Mr. Theo Nghitila, the Environmental Commissioner, Ministry of Environment and Tourism, Hon. Muesee Kazapua, deputy Mayor of the City of Windhoek and the Chair Namibia EEASA Conference Local Organizing Committee – Dr. A. Kanyimba: In attendance was the Secretary General of EEASA, Ms SM Gumede.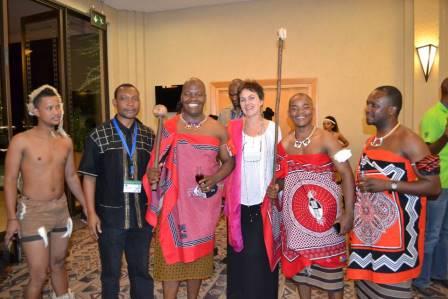 ‌
The closing night was a typical Namibian Braai.
In closing, Sashay Armstrong's remark is expressive of the welcoming and encouraging ethos of the EEASA network and the RU ELRC (they even took under their wing a young, lonesome DUT, Durban delegate):
'This was my first EEASA conference outside Rhodes University. As the Research Programme Administrator I am usually office bound and work behind the scene. It was eye-opening to actually network with delegates across Africa, putting faces to the names I usually deal with on the phone or email. It also an opportunity to see and experience the City from which a number of our Med and PhD students come – I was even invited to a home cooked meal and bought a traditional outfit. Our Rhodes University stand was very popular and there were a number of repeat visits, UNAM students and local educators and government officials wanting to engage more with the Rhodes University ELRC programmes. I even had a chance to sit on some of the presentations, convincing me to seriously think about postgrad'

Thanks to Munsie Gumede for writing this article.
Here is the icing on the cake: This year's EEASA conference made it to the UNESCO ESD Zoom October 2014 newsletter. See this link for more http://us8.campaign-archive1.com/?u=ed96882dc5043627b08300be8&id=d16ff64652&e=7f5c8fef13
BRAVO!!!