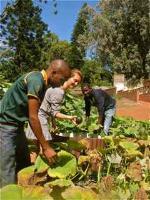 Last year, Sivele Masa went hunting for a job at the municipality. Twenty-five, unemployed and living in Ward 7, he was open to just about anything on offer. When he arrived however, Masa was redirected to the National Youth Development Agency, where an officer posed a challenging alternative: why not create his own job? The officer advised him on the merits of starting a closed cooperative with a group of his peers. And so the seed was planted. Masa took the idea back to his community and quickly recruited nine others who shared a similar vision of employment and community betterment. After brainstorming, the group decided they wanted a project that could addresses the complex, intermingled issues of their community, from unemployment and the environment to health and safety.
Six months later, the project has taken shape. It has been named iNqabayegolide, meaning, 'it's hard to find gold' -- "because we're the gold of people. We want to make a difference in the community," explained Noloiso Bisho, a member of the initiative. The group will focus on three main themes: cleaning, greening and caring. Last week they pitched their ideas to the Makana Municipality with the hope of securing funding and perhaps a project linked to Grahamstown's bicentenary anniversary, taking place this year.
Without many resources, jumping through the many logistical hoops required to start the cooperative has been a challenge. At the moment the group awaits a necessary certification from the Small Enterprise Development Agency (SEDA) in Pretoria. However have not been alone in their journey, Rhodes University's Environmental Learning Research Centre (ELRC) has supported the initiative throughout. Prof Rob O'Donoghue has provided trainings for the environmental aspects, such as planting and gardening, while Shalini Nair and Deepika Joon, both interns at the ELRC, have helped the group refine and communicate their proposal to the municipality. Joon, who has experience working with community engagement and social action projects, was encouraged by the group's commitment and enthusiasm. "They're very motivated and charged," she said, adding that their technical training and know-how improves their chances of success.
Though there is more work to be done, the process of creating the closed cooperative has cultivated in the group a spirit of perseverance. They are determined to overcome the obstacles and set an example for their community. "Staying in the location is not good, we want to improve because our community is not a right environment -- we want to teach others to do the same," said Bisho.