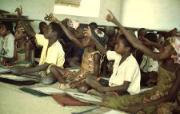 The Environmental Learning Research Centre will attend Africa's largest educational gathering this February, the Triennale on Education and Training in Africa. The conference is hosted every three years by the Association for the Development of Education in Africa (ADEA). This year's conference brings major players in education -- from Africa ministers, senior officials, financial contributors, development organisations, civil society and other leaders -- to Ouagadougou, Burkina Faso. Here they will discuss the theme, 'Promoting critical knowledge, skills and qualifications for sustainable development in Africa: How to design and implement an effective response through education and training systems'.
"Our work will be strongly represented at this year's ADEA," said Prof Heila Lotz-Sisitka, "It's a huge honour to attend as participation is by invitation only. [ADEA] only calls on the most highly regarded in Africa's field of education and it demands substantive research and preparation."
Lotz-Sisitka has been asked to present a paper on South African Teacher Education Network focussing on ESD in teacher education to which Prof Rob O'Donoghue and PhD student, Charles Chikunda, contributed significantly from a case-study research point of view. Also accepted for presentation at the conference was a paper on Regional Capacity Assessment for Sustainable Development in SADC, co-authored by the centre, and a third paper (lead authored by Lotz-Sisitka for UNESCO) discussing ESD Learning Processes in Sub-Saharan Africa.
As a forum for policy dialogue on education and a network of policy makers, practitioners and researchers, ADEA's objective is "to act as a catalyst for innovative policies and practices conducive to change in education through the pooling of thinking, experiences, lessons-learned and knowledge." It was first established in 1988 as a part of the World Bank in Washington, founded as 'Donors to African Education'. Today the secretariat exists in Africa.