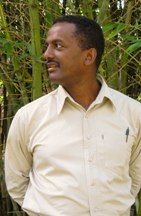 Alongside their individual research agendas, many students at the ELRC concern themselves with issues across the broader social and environmental spectrum. This is no surprise -- when they come to the centre they are passionate advocates and educators, actively engaged in their own responses to modern problems. While they're here, the centre aims to nurture this activism alongside their academic efforts, so that students leave better-equipped committed citizens of the world. Outside engagement is, therefore, a crucial component of a student's time at the ELRC; this is all part of the centre's effort to reconstitute the traditional function of a university.
Million Belay can't help but keep a hand in real world issues while pursuing his academic goals. While completing his PhD in Environmental Education this year at Rhodes, Belay doubles as Director of MELCA-Ethiopia, an NGO that supports communities to restore degraded ecosystems by promoting biodiversity and indigenous knowledge. Soon Belay will be grappling with these issues, and others around social and ecological resilience, on an international platform -- COP 17 in Durban. He will represent the African Biodiversity Network, an alliance of 30 NGOs from 12 countries in Africa, on a panel discussing strategies to mitigate food scarcity, a direct effect of climate change. Belay described his mood as "cautiously positive" in anticipation of the conference.
Along with many others attending, Belay views COP17 as a rich environment in which to learn from and network with other experts and activists. "We are using the opportunity to launch the network, Alliance for Food Sovereignty in Africa," he said candidly. The group hopes to push agricultural development and agricultural ecology as solutions for climate adaptation. However passionate he is about this cause, Belay was clear that no individual interest should trump the main agenda: discussing the renewal of the Kyoto Protocol and developed nations' commitment to helping developing countries mitigate climate change.
"Africa is in a very weak position to be honest," said Belay, who believes that the challenges facing developing nations have only been superficially addressed by previous COPs without much actualisation. The Copenhagen Accord serves as a prime example. Set out in 2009, the agreement promised $100 billion to developing nations (or Annex 1 Parties) for the integration of sustainable development and green technologies into their emerging infrastructure. But little of what was promised has come to pass, said Belay, proposing the questions that have stilted the progress: which technologies are appropriate for developing nations and who in these countries should be entrusted with the funds to implement them?
Belay noted the other factors preventing governments from earnestly combating climate change at home and in the developing world were primarily two-fold: their complicated reliance on corporations who have vested interests in disputing the credibility of climate change; and the distraction of the global financial crisis.
"I think there is a lot of confusion about the issue -- there is not a lot of unity amongst society," said Belay, acknowledging the range of views on the causes of climate change and the conflicting media around the issue. "The focus is on the fire instead of what started it in the beginning," he said. Belay hopes that the conference will be a productive time not only for governments, but for actively engaged citizens who want to partner to creatively tackle one of the most pressing issues of our era. Regardless of COP 17's outcome, the potential benefit of raising public awareness outweighs any risk of failure amongst governments. "It's a gradual process of clarity," said Belay, "people are coming to challenge how they live and their practices. It can only be a good thing."