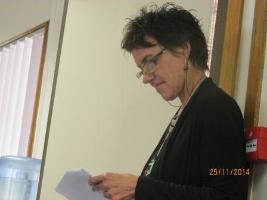 The newly established Rhodes University Postgraduate Studies Centre (PGSC) will be directed by prestigious Environmental Learning Research Centre (ELRC) Director, Prof Heila Lotz-Sisitka. The centre will focus on expanding the quality, impact and strengthening throughput of postgraduate studies at Rhodes University. Prof Lotz-Sisitka is helping to position Rhodes as a highly sought-after university for postgraduate studies in Africa, where the postgraduate studies experience across all faculties is recognised as being of the highest quality. Steady increases in the number of postgraduate students are reflected in the student enrolments, which increased from 27.3% in 2011 to 28.6% in 2012. This positive postgraduate growth continued in 2013 with a 30.75% enrollment which included 348 registering
for a postgraduate diploma, 553 an Honours degree, 941 a Masters degree and 460 for Phd studies.
Prof Lotz-Sisitka said the Centre has been established to respond to the growth in postgraduate studies, to develop strategy and policy for postgraduate scholars and to strengthen institutional engagement with postgraduate scholars across departments and faculties. This Directorship is a part-time role, established for the first time and currently funded from the Department of Higher Education and Training funds
. According to Prof Lotz-Sisitka, one of the first tasks will be to develop an enabling strategy for postgraduate scholars at Rhodes to address the purpose of the PGSC, followed by a series of associated activities.
"It is early days yet, so the exact contours of the strategy are not clarified as yet. It is important to note that the PGSC will not duplicate what has already been done at department and faculty level for postgraduates, but will rather seek to add value to what is already being done. Thus a key starting point will be to understand more fully what is already being done at Department and Faculty levels, and amongst the postgraduate scholarly community in order to understand which initiatives could potentially be expanded in relation to the purpose of the position," she said.
Another key step in getting started
, she said, would be to more fully understand the existing experiences of postgraduate scholars at Rhodes and to respond to some of the more urgent demands for postgraduate student support. One of these is to support academic writing, and with the support of Professor Chrissie Boughey, Acting DVC: Academic and Student Affairs , the PGSC has already launched a post-graduate studies writing programme. The first workshop was attended by over 100 postgraduates in September 2014, with more requests for follow up sessions.
In addition to this support the Mellon Foundation has provided start up support for the PGS's Writing Support activities, and the Centre is working towards establishing a more sustained programme for providing postgraduate writing support from 2015 onwards. Prof Lotz-Sisitka believes that there are many other possibilities for expanding postgraduate study interactions at Rhodes, such as through a mix of structural interventions, research methodology and research teaching engagement, and scholarly interactions that extend the voice, quality and engagement of the postgraduate scholarly community within universities.
"These insights will need to be contextualised to Rhodes University and its research plans and the institutional development plan," she said. Prof Lotz-Sisitka who holds the Murray & Roberts Chair of Environmental Education and Sustainability in the Environmental Learning Research Centre (ELRC) has worked within the arena of environment and sustainability education for the past 20 years in Africa. She has a long standing interest in participation in education and the relationship that exists between learning agents in the education system and institutional practices, cultures, structures and histories that enable and constrain participation in education. A pro-active and reflexive engagement with the contextual realities and histories that shape agency for learning and research, and thus successful participation in learning at postgraduate level forms a key focus of the work of the ELRC, and Prof Lotz-Sisitka sees this as equally important for the work of the new PGSC at Rhodes.