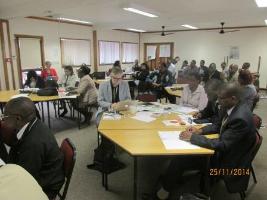 The Swedish/Africa/Asia International Training Programme (ITP) on Higher Education for Sustainable Development (HESD) Alumni Conference and Reflective Seminar 25-28 November 2014, is on at ELRC, Rhodes University, South Africa. This alumni conference and reflective seminar has been organised following its end and a rigorous international review of five years of its successful existence. The alumni's meeting
was constituted as an academic conference and reflective/evaluative seminar, which will produce strategic planning outcomes for future interventions of this nature for Africa. Hence the expert input of participants is highly valued.
ITP alumni and stakeholders were invited for the final alumni conference and reflective seminar from all the regions in Africa, Asia and Sweden in recognition of the project they have initiated and supported during the ITP. The change projects of the invited alumni have been identified as exemplary Education for Sustainable Development projects on the African continent; a big congratulation to them all. Travel and accommodation
arrangements, travel costs from the nearest airport, accommodation, and all meals, together with a small daily stipend for incidental costs while in South Africa has been provided by the programme, while travel insurance has been covered by NIRAS Natura.
The conference and seminar brings together 25 of some of the best ESD change projects developed over the life of the ITP programme by alumni of this programme (between 2008-2013) in which approximately 141 of such projects were developed on the African and Asian continent. In absentia, the contribution and change projects of all other ITP alumni have been recognised and appreciated. The 25 selected alumni participants are from 10 different African countries such as Ethiopia, Kenya, Uganda, Nigeria, Botswana, Mozambique, South Africa, Egypt, Zambia, currently meeting for a four day conference and seminar. They are presenting their change projects as well as contributing to panel discussions which outline a) the project they have worked on during the ITP, and b) the ongoing development and results of these projects.
Present at the conference is the Head of the Environmental Education and Training Unit of the United Nations Environment Programme, Pradhan Mahesh, as well as a high level Swedish evaluation team as the ITP HESD programme has been selected by Sida as a programme with possibilities for wider learning and knowledge creation. Also present at the conference are teams from China, Sweden and India to reflect on their work and contribution of the ITP to ESD in Higher Education in Africa, and the outcomes of this meeting will feed into the UNESCO Global Action Plan for Education for Sustainable Development.
The MESA book on ESD in Higher Education titled "Mainstreaming Environment and Sustainability in Africa Universities Stories of Change" has been produced. The huge book has been pre-launched on the first day of the reflective seminar, a cocktail function at ELRC, with the works of the invited alumni being featured therein. `