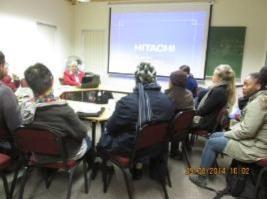 The usual ELRC Friday morning postgraduate seminar which holds between 8:30 am and 10:00 am at room 10 of ELRC was graced by the presence of tranquil and pleasantly smiling Dr Marjorie Jobson; many thanks to Prof Rob O'Donoghue for making this a reality. Marjorie is the National Director of Khulumani Support Group located at Johannesburg, South Africa. The Khulumani Support Group is a membership-based organisation of roughly 85,000 victims and survivors of Apartheid-related gross human rights violations in South Africa. Their history is characterised by the commencement of survivors testifying at the Truth and Reconciliation Commission (TRC) and thereafter Khulumani has become a globally recognised movement spear-heading healing and memory, the struggle for reparations, and active citizenship in countries transitioning out of conflict.
Khulumani which has existed for at least 19 years and means 'speak out' has a mission of building "an inclusive and just society in which the dignity of people harmed by apartheid is restored through the process of transforming victims into victors". It is interesting to therefore recount that in the past two decades Khulumani has worked alongside with many to journey towards facing truth, memory and healing. The support group has sought justice against multi-national corporations that profiteered off aiding and abetting the Apartheid regime. They have rebuilt many lives through agricultural and entrepreneurial projects. They have worked towards public accountability and have sought justice and reparations for their members who experienced the toughest brutalities of the Apartheid system.
The ELRC community was really privileged to sit and listen to the 'sweet and sour' story that emanates from the mouth of a woman and the fabulous woman that stands for hope, dignity, social justice, restoration and freedom after the reign of the post 1994 South African Apartheid government. Some highlights from her presentation include:
- There is enormous agency, power and knowledge in/within the community and we can't produce social change without relationship with them. Hence the need for good relationship with communities as co-production of work. This link she says universities are unfortunately not making and balancing well when it comes to their research and publications.
- Improper alternatives to fixing the damage (physical, emotional, financial, psychological etc) is not to resort to defeat and powerlessness, victimhood, embracing victimicy or blaming others but rather:
Historical consciousness
Critical thinking and
Emancipatory behaviour
A move towards empowered citizenship (Empowerment which is a continuous process done through developing human rights advocacy capacity involving social mobilisation to address the delivery of services as well as Community representatives)
- Principles of cultural transformation include nonviolence, emotional Intelligence, social learning, shared governance, opencommunication, social responsibility, growth and change.
Khulumani continues to stand up to remind the South African government of its as yet unfulfilled commitments to dealing with the consequences of the collective trauma of the violent past to ensure that harmed individuals and communities can be restored to a dignified existence. Unfortunately, twenty years after the transition, these commitments to the people have still not been fulfilled.
For more information about Khulumani and their spectacular activities and achievements see their website http://www.khulumani.net/