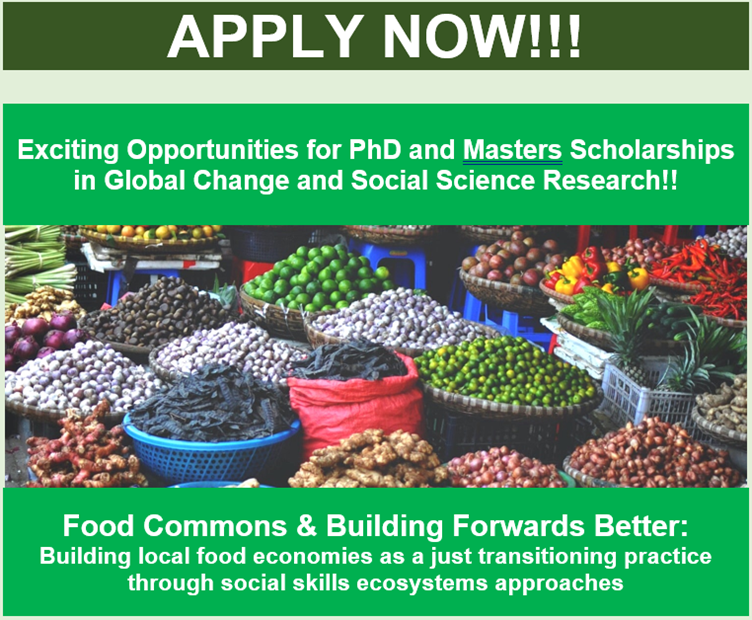 The Centre for Researching Education and Labour at Wits University, in partnership with the SARChI Chair in Global Change and Social Learning Systems and the Chair of Environment and Sustainability Education in the Environmental Learning Research Centre at Rhodes University, and the Education Faculty at the University of Zululand, are inviting applications for scholarships for 3-5 Masters and 3-4 PhDs from South Africa to join this exciting research programme, co-ordinated out of the Wits University REAL Centre and implemented in partnership with the SARChI Chair of Global Change and Social Learning Systems at Rhodes University.
This Food Commons research project, addresses the problem that the current food system in South Africa is fundamentally unsustainable and inaccessible to many as the COVID-19 food crisis revealed so starkly. This draws attention to the need for 'interlocking local, socially just food economy and food commons' (Satgar et al, 2020) approaches. The unsustainability of the food production model is characterised by the distance that food has to travel, unacceptable food waste, lack of appropriate adaptation mechanisms for climate change resilience, and monopolies, raising the argument for 'building forward better' after COVID-19 with a clearer understanding of a more localised agro-ecology model and how this can grow local, more resilient and inclusive food economies.
Drawing on a conceptual framing of social skills ecosystems (Spours, 2019) this research will explore how transitioning to a sustainable local food system can raise important lessons for just transitioning practices, with emphasis on the implications for skills development approaches. Using institutional surveys that examine skills demand and supply of labour and skills with key stakeholders and intermediaries the study will explore how the local skills ecosystem is working and the possibilities for transformation. The survey will be complimented by case studies of local food economies that trace how these economies model a just transition (or not), and will surface insights for developing social skills ecosystems for green skills learning pathways that serve the local food commons and food economy in more inclusive, socially just and sustainable ways.
Together data from the survey and local case studies (see below), will provide insight into the kinds of local economies, jobs, skills and knowledge as well as learning pathways into work that will be required for the food sectors to transition towards a more just, sustainable, inclusive and resilient food system(s) and food commons.
PhD and Masters researchers are invited to join this programme to especially work on in-depth case studies of local food economies, just recovery and just transitioning approaches with specific emphasis on social skills ecosystem approaches (i.e. locally connected skills development systems) that advance the food commons, and more sustainable food systems. Case studies will be located in selected sites the Eastern Cape, Gauteng and Kwazulu Natal (to be co-defined with scholars concerned (we envisage at least one Masters and one PhD scholar working together in each of the the case study sites):
We seek three to four highly talented and motivated PhD scholars and three to four highly talented and motivated Masters scholars to work on the following areas of study:
Survey research analysis, Literature review research, and Local case study development, that will involve inter-alia:
a) interviews and initial contextual profiling focussing on key features of the local economic context, nature of partnerships within local economy - formal and informal e.g. power dynamics; structure of the partnership network; partnership constraints and opportunities; dynamics and experiences of the local skills system (including skills, knowledge and capabilities currently held in the system vs those required to transition to a sustainable and resilient food system) and how various players in the local food system interact with attention to the mechanisms of interaction; how knowledge is generated, accessed and diffused within the system; the roles they play within the system. We will work with local food system actors to develop the local contextual profiles and understanding of their local food economies.
b) collaborative mapping of the local food ecosystem (using knowledge network analysis approaches) to determine the strength of the ties, gaps within the system, centrality of actors, flow of skills and knowledge. This will involve workshops with local actors in the three case study sites.
c) co-generating proposals with local actors on how the existing local social skills ecosystems can be developed further by a contradictions and absence analysis and putting in place collective pathways for action with the actors in the settings using a transformative, expansive learning approach in each of the case study sites. This is critical for the local beneficiation dimension of the research programme, and thus also the SWIFT (Sustainability with, in and for transformations) orientation of the national Global Change Social Science Research Plan to which this research contributes. This will be in the form of 6-10 expansive learning workshops in each site, following the main tenets of expansive learning methodology of Engeström and Sannino (2010) which involves people in co-defining collective agency pathways that emerge from the context and local realities found in grounded time-space configurations and interconnected activity systems. We will also conduct follow up interviews that will take place in the field of activity and will involve actors directly and indirectly engaged in the emerging local food economy and food commons just transitioning praxis as found in the sites.
NOTE: The food systems focus areas, sites, and more specific research questions can be further refined in dialogue with the Masters and PhD scholars.
The social skills ecosystem model "is an integrated conceptual framework that attempts to see beyond the worn-out binaries of market and top-down state; urban centre and periphery; skills supply and skills demand. At its core lies a more connective, devolved and sustainable view of the world that sees rich potential in the synergy of diverse social forces and their respective specialisms to produce a new economic, social and educational dynamic. In this sense, social ecosystems are a form of civil society building and a form of transitioning away from current neoliberal realities" (Hodgson & Spours, 2018, pg. 10
NOTE:
All of the of the Masters and PhD scholars above will be supported by DSI/NRF Scholarships and will either be registered at Wits University, Rhodes University or the University of Zululand in South Africa, and will receive their degrees from the universities where they register. These scholars will have to apply for NRF Bursaries under the SARChI Chair in Global Change and Social Learning Systems UID / OR the UID of the Food Systems Project, a process that will be undertaken with the support of the SARChI Chair in Global Change and Social Learning Systems at Rhodes Unviersity, and Wits REAL.
Final decision making for the award of scholarship rests with the NRF, and scholars must align with the requirements of the NRF for their applications. Scholars should meet NRF minimum academic requirement for postgraduate funding which is 65% in the previous degree. Applicants for masters and doctoral funding must be 30 and 32 years of age or younger respectively in the year of application. Fieldwork costs will be supported by the research programme. NOTE: The NRF mainly funds South African scholars, but a special case can be made within the programme in support of one or two excellent SADC scholars to join the research programme.
Scholars can be from the educational sciences, social sciences, or agro-ecological / agricultural sciences, economic sciences, environmental sciences or inter-disciplinary / transdisciplinary social-ecological sciences and should have a background in studies that relate to the focus and interest of this research programme which includes economics, skills development, food systems, environmental politics, or social learning.
The Research Programme is being led by Dr Presha Ramsarup (Director of Wits Real) working in partnership with co-investigator Professor Stephanie Allais (SARChI Chair: Skills Development) and Dr Emmanuel Ojo (Wits School of Education); Professors Heila Lotz-Sisitka (SARChI Chair: Global Change and Social Learning Systems), and Professor Eureta Rosenberg (Chair: Environment and Sustainability Education) at Rhodes University who will guide the research programme and supervise some of the studies. Additional co-supervisors will also be appointed from the collaborators on the project.
TO APPLY:
Applicants are asked to send:
A full CV,
A letter of motivation indicating your interest in the research programme, and how your previous experience can contribute to this research programme
Honours or Masters results (academic transcript if available otherwise information on outcomes with the understanding that the academic transcript will be needed for advancing the scholarship application).
A PDF copy of Honours (for Masters applicants) and Masters Thesis (for PhD applicants).
Please send these to zandi.hempe@ru.ac.za by FRIDAY 16 JULY 2021, 12:00 NOON
NOTE: Selected applicants will be supported to apply more formally via the NRF System under the UID of the research programme.