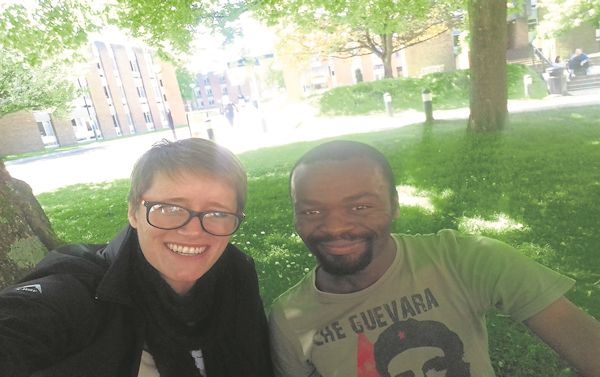 TWO bright young people from Umvoti/Greytown travelled from different parts of South Africa to attend the Summer School at the University of Sussex, UK, in May this year.
Jessica Cockburn and Mnqobi Ngubane had not met before, however, being interested in similar lines of study and passionate about "making a difference", they were destined to meet at one event or another, share a platform or just cross paths, which is what they did. This is their story.
Mnqobi Ngubane matriculated from Greytown Secondary School in 2005. He is currently finishing off a doctoral degree (PhD) in Land and Agrarian Studies at the University of Western Cape after resigning from a lecturing post at Unisa in 2012. At home in Muden, he volunteers for a local NGO, Zibambeleni Community Development Organisation, where he works on youth artisan skills development together with the Department of Higher Education in an attempt to decentralise higher education to small rural towns.
Furthermore, Ngubane is involved in matters of conflict resolutions in matters concerning land at various levels, including land claims, and rural development.
He is passionate about rural development in its totality, but constantly disappointed by authoritarian populists, especially rich rural men, who make relentless attempts to sabotage his work in rural communities in Umvoti Municipality.
Ngubane is also disappointed in the mayor of Umvoti Municipality, Thami Ngubane, for failing to provide the young people of Umvoti Municipality with a TVET College for the past five years, despite numerous announcements in the media.
In his spare time Ngubane loves rearing goats, gardening, cooking healthy meals, listening to jazz and deep house music, reading inspirational books, and spending time with little children.
Jessica Cockburn matriculated from Hermannsburg School in 2002 and completed her BSc Honours at Rhodes University.
She taught English in South Korea for two years. In 2011, she returned to South Africa and started her MSc. Her research focused on sustainable pest management in sugarcane farming in the Midlands.
During this time, Cockburn realised her passion for working closely with farmers and other stakeholders in rural landscapes. After working for a few years, she returned to Rhodes University in 2015 to start her PhD in Environmental Science, asking the question: "How can people living in rural landscapes collaborate to manage landscapes in a more integrated and sustainable way?"
In this work she tried to bring together people with different interests in rural landscapes, including agriculture, conservation and rural development. Cockburn is continuing this work as a Postdoctoral Fellow, and she hopes that a learning-based approach can help improve collaborative efforts for sustainable and equitable landscape management.
Her message for the people of Umvoti is to realise that we all share the landscapes in which we live.
This means that we need to learn to work together and use our diversity in creative ways to shape a better future for everyone. In her spare time, Cockburn enjoys spending time with family and friends, especially her husband, Julian, and her cat. She enjoys hiking, picnics, cooking creative food, yoga and reading novels.
Ngubane and Cockburn felt honoured to be given the opportunity to attend the Summer School at the University of Sussex in England.
They would like to encourage the youth of Umvoti to work hard and make the most of their educational opportunities:
"Education opened so many doors for us, and we hope our story can give others hope for their future, and for the future of our beautiful country."