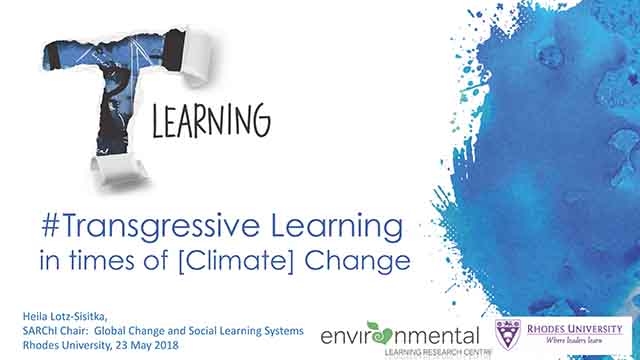 Although lecturers and teachers play a huge role in educating students and learners, the dynamic nature of the contemporary world requires new types of teaching and learning processes to be developed, both for inside and outside of classrooms. This is something 2016 Vice-Chancellor's Distinguished Senior Research Awardee Professor Heila Lotz-Sisitka strives to fulfil.
On 23 May 2018, Prof Lotz-Sisitka presented a lecture titled "Transgressive Learning in Times of Climate Change", which promoted transgressive learning as a transformative educational approach in times of climate change.
Transformative learning (or "T-learning") involves the psycho-social processes of cognitive and emotional learning, potentially creating social change. In addition, transgressive learning is a form of transformative learning that intentionally generates critical thinking, collective agency, and changes in practice and structure. It challenges that which is normalised, especially those practices that lend themselves to the reproduction or recycling of the same knowledge and practices generation after generation. Instead, T-Learning aims to produce new knowledge and practice, nurturing iterative knowledge creation and application. Therefore, T-learning is learning that transgresses boundaries and aims to set new ways of thinking and knowing.
The need for T-learning emerges in "the problem space" that exists between learning as a form of acculturation and learning as transgression. In learning as a form of acculturation, students are inducted into the "known", and they face a politics of access and a curriculum marked by coloniality - especially the coloniality of knowledge. On the other hand, learning as a transgression raises aspirations of decoloniality and features politics of transformation. It is the space between these two concepts that creates the need for new forms of teaching and learning.
She explained four concepts of working in the problem space:
1. T-learning as transdisciplinary concept development
2. T-learning as transformative meaning making process
3. T-learning 'together' to mobilise collective agency for change
4. T-learning as transgressive challenging of the normalised
T-learning is a tool to educate and advance the education sector by academics and knowledge producers because, as Prof Lotz-Sisitka said, "We are the ones who are producing these concepts that guide transformation."
As such, a number of measures could be taken which begin with understanding learning as a socio-cultural process of meaning making, and that meaning can also be made from aspirations and absences while also learning to respect and include diverse knowledges and experiences to introduce new knowledge.
The processes of T-learning expand the learning space, and include movement from formal structures of learning to more informal structures of learning, such as outside of the classroom, and in interconnected networks of learning that cross the formal-informal boundary.
Although the past years have seen the emergence of well-developed theory, methodology, pedagogy, frameworks and research-based insights on T-learning, this is still a fairly new concept and requires knowledge to be built from the ground up.
"In spite of all that T-learning has to offer for transforming society, current curriculum models and institutional mechanisms for enabling this kind of learning especially within formal learning institutions are inadequate," Prof Lotz-Sisitka concluded.