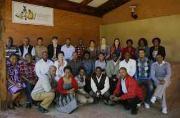 The Environmental Learning Research Centre, together with CHERTL, are currently hosting the 'Africa hub' of an international training programme which focusses on Education and Sustainable Development in universities. The programme, involving 25 academics from throughout Africa, seeks to support critical thinking and educational innovations in the cross-disciplinary area of Education for Sustainable Development (ESD) in higher education in Africa and Asia.
The innovation can be in teaching, research, community engagement or university policy and management. With the help of the programme, participants are producing new curriculum frameworks for different degrees, for example, a Natural Resources Management Masters Degree at the University of Zambia, a Masters degree in Integrated Resources Management for Ethiopian Universities, a new framework for Forestry Education in Ethiopia and a cross faculty programme on science and sustainability issues for Uganda's Science Education Programme at Buisitema University. Other projects include a green campus initiative for Nelson Mandela Metropolitan University, and a society and sustainability module in the Commerce faculty at the University of Swaziland, amongst others.
Kickstarting the discussions was Dr David Kronlid of Uppsala University's faculty of Education. In Dr Kronlid's opening talk on how to engage normative questions in higher education teaching practice, he stated: "I dislike role models. Engaging normative questions in higher education is more usefully framed with the term 'reflaction' or ongoing theoretical reflections on and out of practical ethical actions." Joining in, and welcoming the participants to Rhodes University was Dr Badat, Rhodes University VC, who reminded participants how environmental issues are indivisible from social justice issues -- a point which is familiar to most environment and sustainability education practitioners in Africa. Questions of environment and sustainability on the African continent are closely intertwined with resource flows; land ownership; and nature-culture relationships that are often at the core of livelihoods development and attempts to address poverty.
The programme has covered a number of interesting topics, including university engagement with communities and how to integrate theory and practice in different disciplinary contexts. Discussions included aspects such as how different knowledge structures influence service learning. Mandy Hlengwa, one of the co-ordinators of the programme stated, "it is not automatic, or easy to simply implement an approach such as service learning, one needs to understand the structure of the discipline". Joining her, Shireen Badat showed how UPSTART, a local youth development programme, has become a platform for service learning at Rhodes University, reflecting the potential that exists in universities for structured learning engagements with communities.
Besides focussing on how universities interact with communities, other core foci of the programme over the two weeks was curriculum innovation and how universities develop and build a research culture. CHERTL staff presented various sessions on innovations in use of ICTs in Higher Education, assessment and course design. The group participated in a panel on building a research culture where Professors Catriona McCleod, Tebello Neokong, Martin Hill and Prof Peter Clayton addressed the group, sharing their experience of how a university builds a research culture. This raised questions on how research influences teaching and vice-verse. "Strong research cultures can overshadow good quality teaching, and a lack of research can lead to 'stasis' in teaching'," said Professor Lotz-Sisitka, co-ordinator of the programme. "Thus, it is not an 'either/or' question, but a 'both and' question," she said. Prof Gitile Naituli, guest presenter and Acting Vice Chancellor from Multi-Media University in Kenya, stated that much education offered in Africa is increasingly irrelevant to the needs of people on the continent. "There is a need to think very carefully about how we transform education on this continent," said Prof Naituli.
The programme is a collaborative venture with the United Nations Environment Programme and seeks to support the Global University Partnership on Environment and Sustainability (GUPES) initiative. It builds on and takes forward the work of the Mainstreaming Environment and Sustainable Development in African Universities (MESA) Partnership Project established in 2004. It links African universities to Asian universities through links to the Regional Universities Consortium (RUC), the UNEP-Tongji Institute for Environment and Sustainable Development (IESD) and to the ProsperNET in Asia. A key partner is Ramboll Natura in Sweden, who implement the programme for Sida, and fund the programme. Three Swedish Universities also work with the programme – Uppsala University, Stockholm University, and Chalmers University of Technology. The training programme provides opportunities for exchange and collaboration amongst African, Asian and Swedish universities, as participants have already spent two weeks in Sweden (in May this year) with their Asian counterparts.
This is the third time this programme is being run. Rhodes University are likely to host the 'Africa hub' of this programme for another two years, as Sida has recently extended funding for the programme. "We are very privileged to be part of this programme," says Professor Lotz-Sisitka, "We have been able to grow strong partnerships with universities across the world through this initiative."