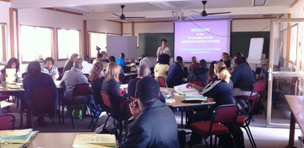 Last a week, educators from South Africa and abroad came together to focus on research in the social sciences, taking part in the Research Design Course at the ELRC. It was an intense week of discussions, lectures, readings and group exercises, all of which asked educators to examine and interrogate the methods they use to facilitate learning. "This is a complex arena characterised by a range of methods, methodologies and discourses that attempt to raise questions about, describe and explain what is meant by the pursuit of 'Truth'," said Prof Heila Lotz-Sisitka, explaining the purpose of the course.
More than 40 participants attended the course which was designed and facilitated by the Education faculty and developed over a period of fifteen years. "The course helps post graduate students and practitioners in the social sciences consider the different possibilities available through the examination and exploration of research design decision in relation to an emerging and ever-changing landscape of research traditions," said Prof Lotz-Sisitka.
Issues of context, ethics and practical implementation, inevitably emerge among design and methodology discourses. Participants are asked to develop proposals throughout the week as they are more deeply informed by orientation sessions, research stories, workshops and toolkits.
One Masters student attending the design course commented: "The course really helped me start thinking about how to go about research and how it's a very complicated process. I also saw how creative you can be and how things change throughout the process. You're constantly re-examining why you're doing this and how you're doing it, to see how your understanding of reality impacts how you go about research."