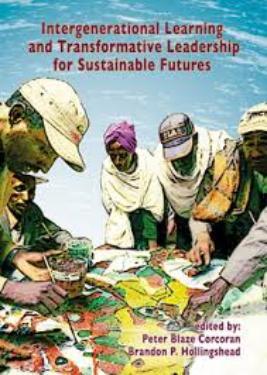 The hot from the press book titled "Intergenerational Learning and Transformative Leadership for Sustainable Futures" published by Wageningen Academic Publishers will be launched at the World Conference on Education for Sustainable Development (WCESD) next week. Numerous contributors to the book will be in Nagoya, Japan for this important conference. The WCESD delegates are therefore invited to join in launching this book on Wednesday, November 12, 2014 during the official UNEP side event at 13:30-15:00 (the location is yet to be posted on the conference website though).
The book edited by Peter Blaze Corcoran and Brandon P. Hollingshead is in three parts: Part 1 – Principles, Part 2- Perspectives, and Part 3- Praxis. In this book, 82 authors from 26 countries across 6 continents seek answers in 32 essays to the many questions related to the intergenerational collaboration that holds promise for creating sustainable futures. The authors themselves represent a diversity of geography, gender, and generation - and include the institutions comprising the emerging International Intergenerational Network of Centres. They speak to key principles, perspectives, and praxes at the intersection of intergenerational learning and transformative leadership in the context of education for sustainability.
Amazingly several ELRC research programmes feature in the book chapters by authors including Heila Lotz-Sisitka, Dylan McGarry, Million Belay, Ingrid Schudel, Eureta Rosenberg, David O. Kronlid, Arjen E.J. Wals, Mahesh Pradhan, Brian Waswala, Ping Fang and many more.
Chapter 1 by Heila Lotz-Sisitka titled "'We must start with our own children': reflectively researching intergenerational leadership for social justice, education, and sustainability."
Chapter 12 by Dylan McGarry titled "Empathetic apprentice: pedagogical developments in aesthetic education of the social learning practitioner in South Africa."
Chapter 14 by Million Belay Ali titled "Participatory mapping for intergenerational learning and resilience in Ethiopia."
Chapter 16 by Ingrid Schudel titled "Developing a relational perspective on intergenerational learning."
Chapter 18 by Eureta Rosenberg and Sibusiso T. Manzini titled "Leadership for biodiversity in South Africa: transformation and capacity development in the GreenMatter programme."
Chapter 26 by Mahesh Pradhan and Brian M. Waswala titled "The Global Universities Partnership on Environment and Sustainability: promoting intergenerational learning."
The work of creating the future is being done now - and much of it is unsustainable in terms of natural and cultural resources. How will the next generation of leadership for environmental sustainability be raised up? Can we imagine sustainable futures, and can we enable transformative leadership to help us realize them? How can we best ensure that the several generations share
their particular knowledge? What are the ethical frameworks, methodologies, curricula, and tools necessary for advancing and strengthening education for intergenerational sustainability learning and leadership?
To download
the PDF version of the table of contents of the book 'Intergenerational learning and transformative leadership for sustainable futures' go to http://www.wageningenacademic.com/_clientfiles/TOC/intergen.pdf?sg=%7BC08EAD80-5422-49F2-9612-5D9B6A80BC8D%7D
For an informational flyer go to http://www.wageningenacademic.com/Default.asp?pageid=58&docid=16&artdetail=intergen&webgroupfilter=&
The book is available for sale in hard copy and electronic formats from Wageningen Academic Publishers at http://www.wageningenacademic.com/Default.asp?pageid=58&docid=16&artdetail=intergen&webgroupfilter=&