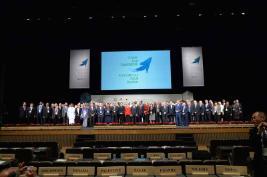 It is with much excitement that we confidently announce that the World Conference on Education for Sustainable Development (WCESD) was a resounding success. The conference was attended by 76 Ministers and Deputy Ministers and 1100 delegates came from 148 countries, making this the largest and best attended high level UNESCO Conference in recent years according to the DG of UNESCO.
The South African Minister of Basic Education attended the conference with a delegation from SA (including the SA UNESCO Focal Point) and was invited by UNESCO to contribute to one of the plenary sessions where she emphasised the importance of creating connections between the education system and the realities of youth, and suggested that we ought to strengthen youth capacity for engaging with sustainable development issues.
The conference was really good because it integrated ministers and government delegations with academics, youth and the best global programmes and projects focussing on ESD from around the world. There were 6 interactive plenaries, 34 workshops, and a number of side events and exhibitions, allowing for much interaction. A children's conference, a youth conference and a higher education conference took place before the main conference.
There was an inter-governmental High Level Round Table which was very interesting, and many of the governments from around the world are making good progress with implementing education for sustainable development to address critical issues such as environmental degradation, climate change, green economies and peace (amongst other issues). There was agreement that ESD adds an important dimension to the achievement of educational quality, and that there is a need to re-think the purpose of education, and to support teacher education (a strong theme coming out of the conference). Ban Ki-moon addressed the audience and stated simply that 'There is no Plan B because there is no Planet B'. The urgency of addressing these issues was also repeatedly raised, and the role of education in contributing to the upcoming sustainable development goals, and of course
achieving inclusive quality education as a condition of sustainable development was also discussed in great depth.
Other themes that were strong in the conference include: the need to focus on policy synergy and coherence in relation to SD issues, youth empowerment, professional learning of teachers and educators, community education and learning, and whole institution approaches. These also form the focus of the Global Action Plan for ESD. There was also strong agreement that we are working towards socially just green economies and green societies, and that to achieve this there is need for strong collective partnerships engagements; hence all should be involved.
Another key finding of the conference report is that Eco-Schools is the largest teaching and learning network in the world with 14 million students and 1.2 million teachers in 58 countries actively involved in this network. The report also includes a lot of Rhodes University/ELRC work in MESA, the International Training Programme on ESD, the work of the SADC REEP and so on. There is also a ROADMAP document for implementing the Global Action Programme on Education for Sustainable Development and numerous programmes from around the world made 'GAP Commitments' - a process which is still open
. This was launched in the final plenary and will become available soon.
The African delegations and their contributions to the conference were excellent. The contributions of Rhodes University and especially ELRC alumni graduates were outstanding. They were most privileged to have been a key part of the conference. No less than 13 Rhodes alumni were present at this invitational conference, all invited on the strength of their contributions to the field over the past Decade and more. This shows that we have taken the Decade seriously and have made much progress in many of our countries. Prof Heila Lotz-Sisitka was repeatedly told that Africa's voice was strong and confident, and that the contributions from our part of the world were of an outstanding quality. We can be proud of each other and it was indeed a privilege for our research community to be part of this event.
Prof Heila Lotz-Sisitka met His Imperial Majesty, the Crown Prince of Japan, and was allowed to talk to him for 1.5 minutes at a wonderful opening ceremony. Prof Rob O'Donoghue did great at the RCE conference offering a number of different contributions into this global forum, and his theoretical work and work on evaluation will be taken forward in the RCE network internationally. Books were launched there carrying chapters of Rob's work.
Prof Lotz-Sisitka presented an overview of the MESA programme and its activities and programmes at the GUPES forum, and was also on the high level interesting panel discussion deliberating what future universities should look like. Prof Rob O'Donoghue and Prof Heila Lotz-Sisitka also attended the Higher Education Conference, and they both had two presentations on that day, so again RU was well represented.
Prof Rob O'Donoghue ran the first workshop with the Japanese National Institute of Educational Research, and Injairu Kulundu made a great contribution into this. She also led a Youth workshop with the Mahatma Ghandi Institute for Peace and ESD from India. Tichaona Pesanayi was involved in the Policy workshop, and also hosted a SADC REEP exhibition (For more information and to download
the SADC REEP publications click http://www.ru.ac.za/elrc/latestnews/sadcreepattheworldesdconference.html).
Prof Rob O'Donoghue, Prof Heila Lotz-Sisitka and Jim Taylor all contributed to the Handprints Side Event. The Intergenerational Leadership and Learning book was launched in the UNEP side event (for more information on the book click http://www.ru.ac.za/elrc/latestnews/newbooktobelaunchedattheworldconferenceonesd.html). A few of ELRC's many old friends and colleagues present at the conference include - Daniel Babikwa, Abel Atiti, Ayub Macharia, Dorcas Otieno, Tsepo Mokuku, Overson Shumba, Zippy from Kenya, Stephen Stirling, Bob Jickling, Arjen Wals, Peter Corcoran, Akpezi Ogbuigwe, Zinaida Fadeeva, John Holmberg and many others.
Prof Heila Lotz-Sisitka was the note-taker at the High Level Round Table, which was the meeting
of the Ministers and their delegations. She worked tirelessly to get the conference declaration crafted (with UNESCO's help and lots of inputs from the ambassadors and nominated members of the drafting group). She also managed to produce a final presentation for the closing plenary, summarising the whole conference in 10 short slides and 10 minutes – which is not an easy thing to do. We commend her for this. After drafting the Declaration, and producing the synthesis report of the conference for the final plenary, the post-conference on ESD and Teacher Education
is the next event. Zintle Songqwaru from Fundisa for Change will be joining Prof Heila Lotz-Sisitka for this conference. Fundisa for Change will be putting their 'GAP Commitments' together in the next couple of weeks. There will be a report on this asap.
News from the conference can be found on
http://www.un.org/apps/news/story.asp?NewsID=49321#.VGRbxxa4SfR
The report on the DESD has been launched 'Shaping the Future We Want' and is available on the UNESCO website or click here http://unesdoc.unesco.org/images/0023/002303/230302e.pdf
To see also the youtube video on the outcomes of the DESD shown at the conference to launch the report click here www.youtube.com/watch?v=zQ9ETC8bk70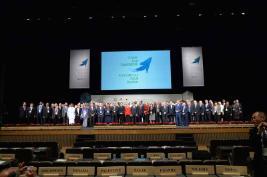 Group photo at the UNESCO World Conference on Education for Sustainable Development (ESD) in Aichi-Nagoya, Japan. Photo: UNESCO