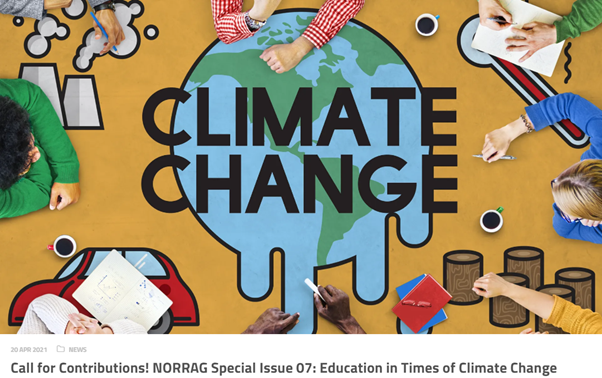 NORRAG, an associate program of the Graduate Institute of International and Development Studies, Geneva, Switzerland, invites contributions to NORRAG Special Issue (SI) #7 with a focus on Education in Times of Climate Change.
The Guest Editors for this Special Issue are Distinguished Professor Heila Lotz Sisitka and Professor Eureta Rosenberg, from the Environmental Learning Research Centre based at Rhodes University.
We welcome contributions in the form of short written articles (1200-1500 words). This special issue aims to appeal to a wider audience including policymakers, academics, researchers, civil society organizations, and other actors working in the field of education. The guest editors will work closely with authors to ensure a diversity of contributions and perspectives.
Kindly visit the NORRAG Website for additional information and sub-theme detail.
Important dates:
Kindly submit an abstract of no more than 250 words by 21 May 2021.
Final full draft articles, of no more than 1500 words, are due by 12 August 2021.
Abstracts and full articles may be submitted directly to the SI Manager, Ms Carlene Royle (c.royle@ru.ac.za)
Special Request: Kindly note the sub-theme in your cover email.