An interesting event took place on Friday the first of August 2014 at the Environmental Learning Research Centre (ELRC). This was made possible through collaboration between Nikki Kohly, the Safety, Health and Environmental (SHE) Officer at Rhodes University and Rob O'Donoghue from ELRC. The collaboration was corroborated in an impressive event where a few hours were set aside to discuss and put into practice an important topic: Planting for Sustainability with some children from a local school.
Anje Niemandt, the Chairperson of Galela Amanzi and Nosipiwe Nqwala, a Children of the Soil (COTS) representative with the help of an ELRC PhD Scholar - Tichaona Pesanayi and an ELRC masters student - Kim Carlyon who put together a fun filled interactive session for a Grade 7 class from Good Shepherd School, Grahamstown. The school children got involved with helping Tichaona and Kim prepare the ELRC's demonstration vegetable garden with rainwater harvesting for the summer crop that will be planted. The ELRC garden plan was shared with the audience and the importance of compost and manure for soil quality was explored. There were discussions on how humans, other species and life support systems such as air, soil and water are connected, and how we can still grow a garden in a small space with careful soil fertility management and water harvesting. Both girls and boys from Good Shepherd School eagerly got involved in turn in digging to prepare a fertility trench bed and a pond.
Vuyani from COTS then joined in to share
the importance of trees and why we as humans need to ensure that we plant trees and other plants so that there is enough oxygen for the growing population. The students all took home a new planted cutting that Vuyani helped prepare, after demonstrating how easy it is to do a soft cutting from certain plants. The children learnt that one can have a garden in a very small place and that they can make a difference towards a more sustainable future.
In their own words the students said they learnt the following: "About plants"; "How to take care of plants"; "How to keep the environment growing"; "How to make my own garden"; "How to take care of the environment and about how we should start caring about our plants"; "Everyone can make a difference"; "How to dig and plant"; "How to water small plants."
In conclusion, it was an exciting collaboration for all involved. Tichaona and Kim enjoyed it thoroughly and COTS will be setting up a school garden at Good Shepherd School soon, so we look forward to joining them with this and seeing the progress in these young farmers.
Some photos of the day:
Tichaona Pesanayi having an interactive session with the students while sharing the ELRC's garden plan with them; with Kim Carlyon supporting.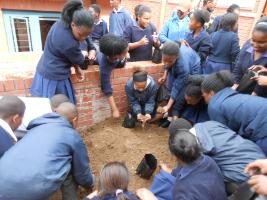 The children from Good Shepherd School filling their bags with soil to take home a cutting.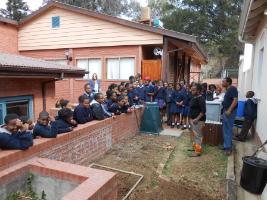 Nosipiwe Nqwala, a Children of the Soil (COTS) representative addressing the pupils; with Tichaona Pesanayi supporting.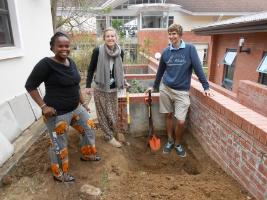 RU Scholars demonstrating the good practice as well as celebrating the success
of the day. From left to right: Nosipiwe Nqwala, Kim Carlyon (ELRC MEd Scholar) and Matthew Weaver.