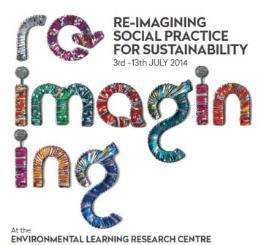 Re-imagining social practice for sustainability which features in the 2014 Arts Festival in Grahamstown will be anchored by the Environmental Learning Research Centre (ELRC), Rhodes University from 3rd-13th July, 10:00-11:00 am daily.
Events lined up for the week include public lectures, talks, discussions, workshops, debates, and book launch.
Speakers include Rob O'Donoghue, Heila Lotz-Sisitka, Jay O'Keefe, Ingrid Schudel, Lausanne Olvitt, Zintle Songqwaru, Priya Vallabh, Soul Shava, Nick Homer and more.
For more information click here ELRC arts festival poster 2014 or see page 281 of the festival programme here 2014 National Arts Festival.
We look forward to seeing you.