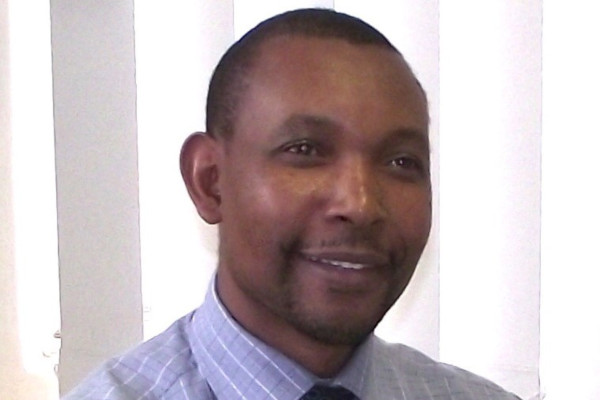 Tichoana, teacher, colleague, friend and mentor extraordinaire. The pain of your loss is felt by so many.
It is with a sense of great pain and loss that we offer this tribute to Dr Victor Tichaona Pesanayi, leading Southern African environmental education scholar in the Environmental Learning Research Centre (ELRC). Tichaona (known to us all as Tich), graduated with his PhD on 11 April 2019 to his and his family's joy. He was about to take up a post-doctoral position in the ELRC to continue the work he started with his PhD. Sadly, he passed away just five days after his graduation in the early hours of 16 April 2019.
Tich entered the environmental education field through his work with the Wildlife Society and Environment Africa in Zimbabwe, where he took up working with schools and farmers. He soon extended this activity to communities across the SADC region, contributing regularly to the conferences of the Environmental Education Association of Southern Africa (EEASA), which he joined in the early 2000's serving for over 10 years as council member and as Secretary General for a number of terms. From here he participated in the SADC Regional Environmental Education Programme's International Certificate Courses as a respected and well-loved participant and later as facilitator, co-ordinator and teacher, furthering and leading the change-oriented learning approach of these programmes significantly through his many contributions over the years.
His passion for change-oriented learning, agro-ecology and the learning of farmers motivated him to enroll in a Masters in Environmental Education in 2006, which he completed with distinction in 2007. This was one of the first studies at Masters level to use critical realism as an approach to understanding the myriad underlying factors influencing possibilities for change. Not satisfied with simply analyzing problems faced by farmers however, Tich adopted a co-engaged social learning approach in his Masters degree which laid the foundations for ongoing co-engaged socially engaged research and praxis. Tich's study to this day serves as one of the leading inspirations for many other Masters scholars wanting to develop a deeper understanding of change-oriented learning.
In 2008 when the SADC Regional Environmental Education Programme were searching for a programme manager, it is no surprise that they approached Tichaona to lead this 14 country regional programme as its programme manager. Tich led the SADC REEP with depth, kindness and dedication until the programme closed in 2014. Here he led and made many contributions, too many to name, but with some standing out for their regional and Africa-wide impact. He, together with his colleagues, led the expansion of the African Regional Centres of Expertise programme which cemented a network of African Centres of Expertise in Education for Sustainable Development, a network which is still active to this day. He also led the expansion of the International Certificate Courses in Environmental Education in SADC countries, supporting the establishment of a SADC ESD Teacher Education Programme, and a SADC Climate Change educational research network which were later extended with support from colleagues at SWEDESD and elsewhere. At this time, he also led the establishment of a Memorandum of Understanding with UNESCO and the SADC REEP which led to the establishment of a 10 country research programme on Educational Quality and Relevance and Education for Sustainable Development in Southern Africa, which today stands world-wide as one of the few international studies with this focus. Building on this and the work he led during the UN Decade on Education for Sustainable Development, he led the post-decade Global Action Programme for ESD policy processes in SADC with UNESCO Regional Office for Southern Africa (ROSA) and EEASA colleagues, always seeking to build lasting connections between these major regional institutions. The partnership that Tich cemented between UNESCO and SADC REEP, has recently expanded into a new era of activity that will work with over ninety teacher education institutions across 11 southern African countries attracting 21 million Swedish kronors into the SADC Region to carry forward this work.
Tich was an enabling foundation builder, he collaboratively and generatively worked with great kindness with others to build important foundational processes for environmental education processes to flourish across the SADC region. Not only contributing to these broad processes, he regularly advised all of us on how to grow our food, also guiding the learning in the Wamkelekile garden at the ELRC on a regular basis! In recent years he worked with colleagues to provide leadership and support to EEASA, an institution that he loved. Even last year, when his health was failing, he travelled to Zambia to attend the conference to be with and share generously with this community.
While serving as EEASAs Secretary General, in late 2015 Tichanoa moved to Rhodes University's Environmental Learning Research Centre in Makhanda to complete his PhD. Here he not only worked on establishing a new boundary-crossing model for expansive learning in agricultural learning systems, he actively implemented this model through the work that he did in establishing the award winning Amanzi for Food research programme, which he led with great commitment and care for the Imvotho Bubomi Learning Network collaborators who joined him in establishing this learning network with the Fort Cox Agricultural and Forestry Training Institute. While doing this he supported young scholars and assisted many others in making their way through their post-graduate journeys, while also mentoring many farmers to learn sustainable agricultural practices. He was passionate about supporting the next generation of young African farmers to be successful, caring farmers. It is not surprising that he, together with two of his young scholar colleagues won the University's student award for engaged research in 2016 and that the project he was co-leading won the Vice Chancellor's Community Engagement Award in the same year.
Building on his early work as a Science Educator, Tich's love for the earth, environment, communities, and educational transformation continued to inspire his support for principles of agro-ecology, smallholder farmers, and sustainability in education. He carried this passion with him throughout his life. In his PhD thesis he tells the story of how he, as a young boy would work on his grandfather's farm and in his grandmother's homestead gardens during the school holidays, showing how this experience inspired the work of his PhD which focused on the boundary-crossing learning of smallholder farmers in learning networks leading to curriculum innovations in the agricultural learning system. He wrote,
As growing grandchildren we participated in all practical farming activities and learnt by doing. Through working at the side of adults, following instructions, observing and sometimes questioning we got to make meaning of what we were doing. However, the sense-making process was hardwired in the culture of the practice from one generation to the next and our desire to do what the adults were able to do in the fields. Collecting rainwater flowing off the roof became a sensible common-sense practice which was expected even of youths when the adults were away.
However, I experienced the strong 'agri-cultural' boundaries between urban life and rural life. Higher education and the field of work somewhat disconnected and re-connected me in different ways from the rural farming context. … There is fragmentation, poor representation or absence of the diversity of knowledges, sustainability learning and culturally-sensitive practices between connected agricultural learning activity systems within the wider agricultural learning system. This compromises livelihoods and reproduces poverty and unhappiness. This situation raises many questions around the meanings of connectivity, continuity of work, relevance of information shared, sustainability, agency, transformation and coloniality embedded in the agricultural learning systems and practices of post-colonial states, especially in Africa".
Tich's PhD offers not only a deeply engaged reflection on the disruptions experienced by African small holder farmers via colonial intrusions and modern mono-cultural practices, but it also offers an approach for learning our way out of this situation. Additionally, and importantly, it also offers insights into the importance of empathy for boundary crossing learning. In concluding his study, he wrote that "Boundary-crossing was enabled by a variety of actions including understanding and identifying with the context of the other i.e. developing empathy". And in the concluding sentence of his thesis, he offers this insight to guide future study and work in agricultural learning systems: "It is possible for historically-constituted contradictions around water for food and seed security to be resolved when participants from different agricultural learning systems co-engage as equals in co-engaged learning processes".
Tich's life was characterised by kindness, generosity, humility and empathy for others. Following his passing on Tuesday this week, there has been a ripple of pain and grief across the southern African environmental education community. He touched the lives of so many in profound ways. The expressions of respect and gratitude for his contributions are coming in from not only across the SADC region, but from across the world. Gratitude is also extended to Amanda and his family for sharing this giant of environmental education with us all. I too will miss Tich and extend this gratitude. He has been a comrade, friend and colleague with whom I have worked closely and learned much from over the past 15 years. We are grateful that he has left our communities such an enormous and very special legacy. May we all gather the strength to carry it forward as he would have wanted.
We join the southern African environmental education and Rhodes University communities in extending our deepest condolences to his wife Amanda, his mother, aunts and uncles, siblings, family and all those whose lives were touched by Tich's gentle, sincere and humble way of being.
Our only solace is that Tich's life is now in the hands of his beloved Lord whom served so graciously.
On request of the family, there will be a memorial service for Tichaona at the St Mary of the Angels Chapel on St. Peters Campus at Rhodes University on Wednesday 24 April at 11:00, after which the family will take him home to Zimbabwe, where he will finally be laid to rest in Madzivadondo in Chivi area, Masvingo Province, Zimbabwe.
Farewell, dear Tich.