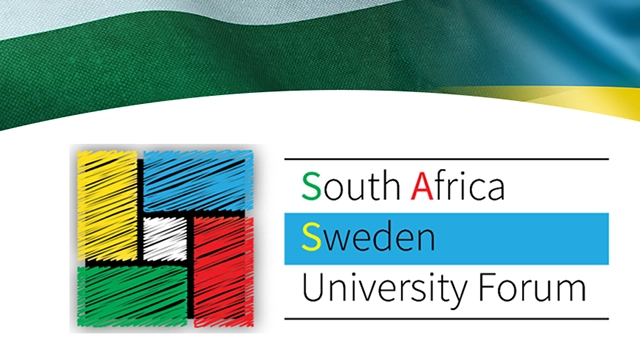 The South Africa Sweden University Forum (SASUF), of which Rhodes University is a member, recently held its Research and Innovation Week 2023. Several Rhodes University academics and executives participated.
The SASUF Research and Innovation Week, held from 27 to 31 march this year, brings together researchers, academics, students and university management from South Africa and Sweden and provides a platform for networking, knowledge exchange, and the development of new collaborations and research projects.
The week involved 40 universities and consisted of 35 satellite events, with 783 registered participants, taking place across 12 cities in South Africa for the first part of the week. The Sustainability Forum from 29-31 March consisted of 50 workshops with 505 registered participants and was hosted by the University of the Western Cape.
The focus of this week is on addressing global challenges related to sustainable development, and SASUF's six sub-themes, which are aligned to The United Nations Sustainable Development Goals (SDGs) and part of the 2030 Agenda for Sustainable Development:
Climate change, natural resources and sustainability
Education for a sustainable society
Social transformation through change: Knowledge and social development strategies
Health - Understanding the burden of disease in Sweden and South Africa
Sustainable urbanisation, travel and tourism in the 21st Century
Digital technologies, big data and cybersecurity
On 27 and 28 March, Distinguished Professor Heila Lotz-Sistika hosted a two-day satellite event at the Environmental Learning Research Centre (ELRC) at Rhodes University. She explained, "The focus of the event was 'Sustainability and the ethical agency and moral authorship of children and young people, and what this means for education'. The event aimed to collect, reflect on and deliberate research produced by the research group and others in order to inform and develop teacher education courses they actively work with. The work is framed within education for the common good, as articulated in the recent 2021 UNESCO Education Futures Report."
The proceedings on-site at the ELRC included a public panel discussion on 27 March with Dr Karin Sporre (Umea University), Dr Christina Osbeck (University of Gothenberg), and Dr Annika Lilja (University of Gothenberg), who visited Rhodes University and joined Prof Lotz-Sisitka, Dr Lausanne Olvitt, Dr Preven Chetty and Dr John Bhurukheni from Rhodes University. Prof Lotz-Sistika also presented at the Sustainability Forum in Cape Town later that week.
Ms Orla Quinlan, Director of Internationalisation, represented the Rhodes University Vice Chancellor (VC) at the SASUF "VC and Academic Leadership Sustainability Forum 2023". VCs, Deputy Vice-Chancellors and other senior representatives from over 40 universities attended the Forum.
Ms Quinlan said that while the event coincided with the Rhodes University graduation, it was important Rhodes University participated in such as significant gathering in the sector. Ms Quinlan contributed to the discussions on developing intercultural competency in the SASUF Forum and will take this aspect forward in SASUF.
Professor Greg Foster, (Information Systems, Rhodes University), Dr Varil Johan Orre (Malmo University), Dr Toas Lindroth (University of Gothburg) and Dr Duane Boucher (University of Fort Hare) co-hosted a workshop on Digital Health Promotion entitled: 'How do we design an engaging and culturally sensitive digital health promotion kiosk in resource-constrained environments?'
Prof Foster said, "The engagement was very productive and resulted in an invitation to collaborate on a new research project."
Senior Lecturer in Environmental Science at Rhodes University Dr Sheunesu Ruwanza shared his research on restoration ecology and biological invasion at a poster session and contributed to discussions on topics such as how climate change impacts on people and the environment (both rural and urban environments). Dr Ruwanza said, "As a result of my participation, I have started new collaborations with researchers from Stockholm University and the Swedish University of Agricultural Science."
SASUF is very intentional about helping postgraduate students build networks for future research collaborations. Ms Chidochashe Chingombe, a Rhodes University postgraduate student said, "The Vice-Chancellor session with the student representatives from both Sweden and South Africa was a most memorable experience. The variety of people I encountered was also quite an experience, and I got to establish relationships with and make friends with my colleagues worldwide."
International Office Manager at Rhodes University Ms Debby Wolhuter, who had coordinated the University's participation and logistics, attended the SASUF coordinators meeting. She said: "SASUF coordinators are now working towards SASUF 2024, and the next meeting will be held at the International Education Association of South Africa, IEASA's conference 23 to 25 August 2023."
The call for SAFUS NRF seed fund grants is now open, and the deadline is 28 April 2023. https://www.sasuf.org/funding-opportunities