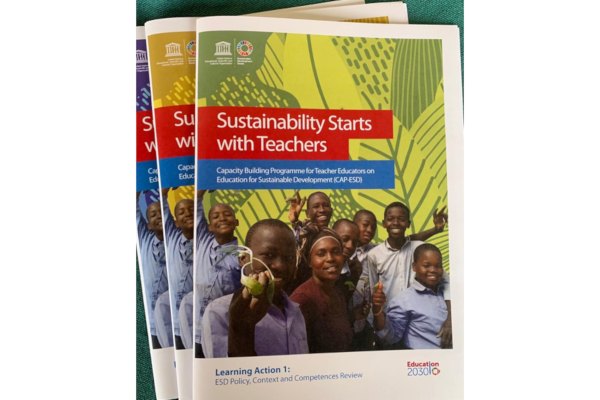 This week saw the 'kick off' of the regional SADC Sustainability Starts with Teachers (SST) Advanced Capacity Building Course at Rhodes University, South Africa. This Professional Learning Course involves 30 Teacher Educators and Technical and Vocational Education and Training (TVET) Institution Educators from 30 institutions across Zimbabwe, Namibia and Botswana.
In her opening remarks, Ms Carolyn Medel-Anoneuvo, Head of Education at the UNESCO Regional Office for Southern Africa, stated that UNESCO is fully committed to integrating Education for Sustainable Development (ESD) into teacher education. She highlighted that UNESCO is concerned that teacher education programmes worldwide have tended to neglect integration of sustainable development into teacher education even though ESD has been integrated in school curricula. "This has rendered teachers unprepared for teaching the content, principles and practices so crucial to ESD", observed Medel-Anoneuvo.
"Education for Sustainable Development (ESD) empowers learners to take informed decisions and responsible actions for environmental integrity, economic viability and a just society, for present and future generations, while respecting cultural diversity. It is about lifelong learning, and is an integral part of quality education", said Medel-Anoneuvo.
During a formal welcoming function to Rhodes University, the Vice Chancellor Dr Sizwe Mabizela recognised the efforts that all ESD partners are doing in order to make the planet a good place to live on. He welcomed all delegates to Rhodes University noting that Sustainability is one of the key pillars of the institutional development strategy of Rhodes University.
During the course, participants have an opportunity to present and further develop ESD Change Projects. These are institutional change initiatives in Teacher Education and TVET institutions supported by the programme. The teacher educators and TVET educators are in the process of conceptualising and developing these Change Projects which range from Early Childhood Teacher Education initiatives, to Primary and Secondary education teacher education initiatives as well as Technical and Vocational Education and Training initiatives.
Distinguished Professor Lotz-Sisitka, leading the SST programme from Rhodes University, says that "Transformative, change-oriented learning is at the heart of the initiative, hence we are supporting development of self-defined institutional change initiatives that include curriculum innovations, pedagogical innovations and whole-institution innovations orientated towards sustainability and social justice across the SADC Region, to benefit the region's future teachers and learners".
Participants on the programme are selected representatives of their institutions, and will carry the knowledge and skills gained in the programme back home to their colleagues, and will report on their change initiatives into national policy systems and monitoring of the SDGs. Dr Sheperd Urenje, programme lead from the Swedish International Centre for Education and Sustainable Development remarks "The Change Project model has been widely used in the SADC region, with substantive results at implementation level. It is a good mechanism for building capacity for ESD".
The Change Projects are enriched through a range of custom designed ESD manuals as well as an electronic ESD 'learning library' to support their Change Projects. These can be used with colleagues as well as student teachers in their home institutions. The principle of a 'knowledge commons' is being adopted to facilitate easy sharing of the materials across the SADC region.
The programme is heavily supported by a large alumni of ESD professionals who have benefitted from professional learning programmes previously run by Rhodes University's Environmental Learning Research Centre, the SADC Regional Environmental Education Programme, the Sida funded International Training Programmes in ESD, and UNESCO professional learning programmes. In this way, the programme is richly resourced with capacity from across the SADC Region. "An alumni database and regional communication system, including a dedicated web platform and e-learning version of the courses is being set up for ongoing network building. This regional platform will facilitate ongoing interaction and co-learning as other countries across the region join the initiative", said Dr Charles Chikunda, co-ordinator of the initiative from the UNESCO Regional Office for Southern Africa.
The SST programme is a partnership programme led by the United Nations Educational, Scientific and Cultural Organisation (UNESCO), Rhodes University's Environmental Learning Research Centre and SARChI Chair in Global Change and Social Learning Systems, the Swedish International Centre for Education and Sustainable Development (SWEDESD) and the Southern African Regional Universities Association (SARUA), with generous support from the Swedish International Development Agency (Sida).
The SST programme objectives are to support capacity building for Teacher Educators and TVET Educators in 11 Southern Africa countries namely South Africa, Zimbabwe, Botswana, Namibia, eSwatini, Lesotho, Malawi, Zambia, Tanzania, Mozambique and Angola over a four year period. This programme contributes to the global efforts being made in implementing Sustainable Development Goal (SDG) 4, Target 4.7 which seeks to integrate sustainability issues into education systems worldwide, including teacher education initiatives in the SADC region.
At a practical and conceptual support level, this year's programme is supported by an experienced team, made up of UNESCO ESD Regional Reference Group members, Dr Nthalivi Silo (Botswana), Dr Sirkka Tshiningayamwe (Namibia) and Ms Iris Chimbodza (Zimbabwe). The programme is co-ordinated in UNESCO by Dr Charles Chikunda. Dr Sheperd Urenje from SWEDESD, and Emeritus Professor Rob O'Donoghue (Rhodes University) are also here, supporting the development of the SST programme. Education Faculty staff and scholars will also make various contributions to the programme.
The SST Advanced Capacity Building course runs from 25 September through to 5 October 2019 at Rhodes University, South Africa,