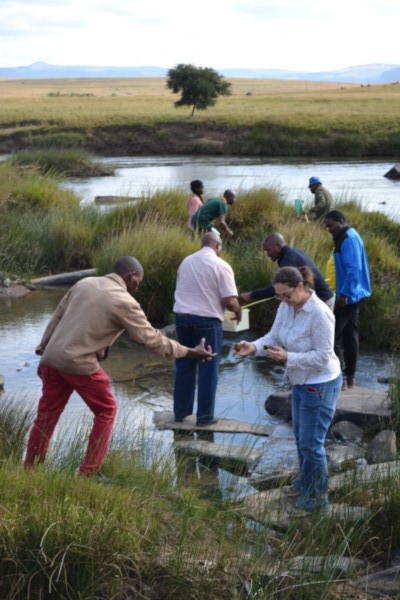 From 22-27 May, 10 teachers and 2 Department of Education officials met – 2 groups from either side of the Tsitsa River catchment. These teachers participated in a SACE accredited Teaching Water in Social Sciences Fundisa course funded by the Water Research Commission.
The course was run by Laura Conde and Ingrid Schudel from the Rhodes Environmental Learning Centre with support from Louise Lodenkemper of Aurecon Centre and Waterlore. Educators strengthened their knowledge of mapwork, catchments and catchment management, natural resources, ecosystems and well-being, development and sustainability. As well as wearing their 'Geographer' and 'Historian' hats, teachers had their 'pedagogical' hats on too. They were introduced to a variety of teaching methods where they used: practical and conceptual modelling to move from the abstract to the concrete; practiced skills such as scientific, observation and interviewing techniques for strengthening investigative skills in complex systems; and worked with texts to deepen their subject knowledge.
Teachers were also challenged to think about how they could use the course knowledge to develop innovative classroom methodologies and to ensure quality assessment of learners in their Geography classrooms.