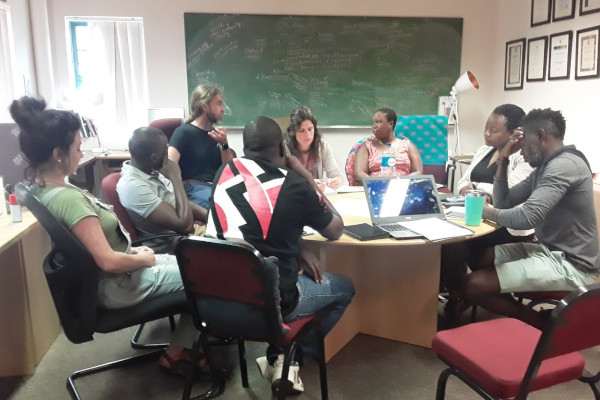 The 2020 academic year may have just started at Rhodes University but the Environmental Learning Research Centre (ELRC) is already in full motion. Professors, researchers and students are equally prepared to make this academic year one of the most successful in the history of the centre. This will be achieved through different academic and research activities that the centre has planned to implement.
The Amanzi for Food and VET Africa 4.0 research teams are in the field, visiting the Fort Cox Agriculture and Forestry Training Institute, the University of Fort Hare, and farmers in the area. At FCATI, a curriculum review consultation is taking place involving stakeholders from a range of sectors. The team in the field, Prof Lotz-Sisitka, Lulu Maqwelane, Live Matiwane and Luke Metelerkamp are joined by new PhD scholar Sidney Muhangi and new M.Ed student Lukhanyo Mutshaya, who will join the Amanzi for Food / VET Africa 4.0 research programme this year, will join the ELRC staff and students on Wednesday. Visitors to South Africa from Nottingham University, in the UK, Wits University in Johannesburg, and Gulu University in Uganda have joined in this activity, and the team will come to the ELRC on Wednesday and Thursday. From Friday to Tuesday next week, the team will be working on writing from the project. Keep an eye open on the Amanzi for Food website for further updates on this activity.
This week, Dr Dylan McGarry, Senior Research Associate, is leading preparations for upcoming workshops on Creative Methodology for Participatory Research. In collaboration with Taryn Pereira, Dr McGarry intends to develop creative workshop activities that will reflect the needs of contemporary research practices in environmental education. The workshop will run from 9th to 13th March. It will be of great value to attend the workshops at ELRC. For more information on this workshop please email d.jansevanrensburg@ru.ac.za
It is also in this week when Dr Gamuchirai Chakona, working with SARChI Chair in Global Change and Social Learning Systems Distinguished Professor Heila Lotz-Sisitka, will explore innovative ways for creating writing sessions in the centre that will be open to everyone in the university. Dr Chakona observed that researchers and postgraduate students need a dedicated time to do writing with their peers. She emphasized a need for collaborative writing among researchers and students within the centre and across the university in a quest for interdisciplinarity and social learning.
Likewise, postgraduate students in the centre are not dormant this week. PhD candidate Robson Mukwambo is of the students to follow his research this week. Doing a study "Mediating and examining expansive learning in the context of multidimensional complexities affecting household food security activity systems in Nyanyadzi Irrigation Scheme in the Manicaland Province of Zimbabwe", Mr Mukwambo is available in the centre this week to share his research insights with anyone keen to listen.
Distinguished Professor Lotz-Sisitka is rounding up the five year review report on the SARChI Chair. She reflects on the enormously productive programmes of the chair, and reports that between 2016 and 2019 the ELRC's scholars (staff, students and research associates) have produced 113 peer reviewed journal articles and book chapters; 6 co-edited and co-authored books; and 234 other scholarly contributions. Staff and research associates in the ELRC have also edited and co-edited no less than 22 journals regionally and internationally! In the same time period, 25 Masters students have completed their studies, and 15 PhDs, with 4 PhDs currently preparing to submit their work by the February deadline! 2020 will be a year of synthesising all of the work that has been produced by the ELRC scholars.
From the look of things, this week is a busy one in the ELRC. Still, as it has always been the case, all members of the Centre are eager to join hands and support each other with all the week's deliverables. Surely, ELRC is a good place to be or follow its updates this week on the twitter feed @Ruelrc2 and/or on Facebook where the FCAFTI curriculum deliberations are being reported on as they emerge!