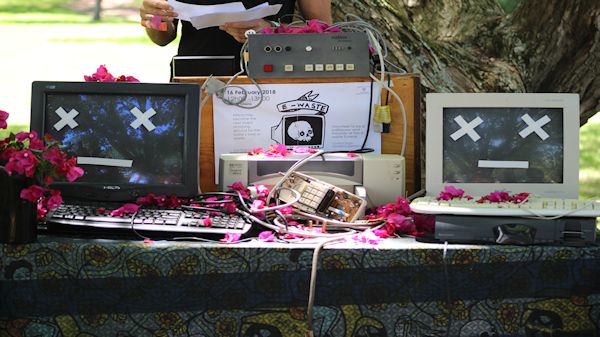 The scene was macabrely familiar this past Friday: a gathering of of black-clad mourners, hats and sunglasses to hide the tears, a circle of chairs, flowers, an altar and the dead resting quietly before us. Dr Dylan McGarry, a post-doc fellow from the Environmental Learning Research Centre, began his eulogy:
"This is a funeral, a funeral for the electronic extensions of our humanity. We are here today to stay with the troubling reality of the mass-grave-mountain of discarded electronic technology, that grows here on campus, and around the world. Those laptops, those PCs, those Casio calculators that stayed up late with us before every deadline, our confidants and coaches for so many years of our lives. Those decoders, televisions and VCR recorders that stole our imaginations and our breath. Those HIFIs and tape decks that shared our playlists on their black ribbon. The landlines, cell phones, answering machines like the one that let me speak to my grandfather when he was dying in his hospital bed far away. The fax-machines that received copies of our birth certificates when we applied for an identity. Those hard drives and memory sticks that remembered our family photographs and our favourite films, and kept vigil over our assignments. Those kettles, toasters, heaters and microwaves, those electronic hearths to our homes. The hair dryers that dried us, the fans that cooled us and the kilometres of extension cords that connected us to this global electrical rhizome. Today we honour their role in shaping our society and our culture."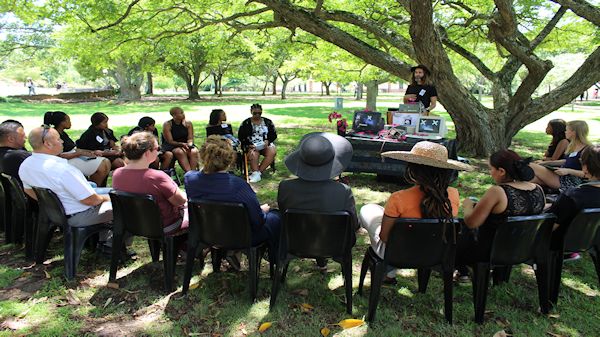 The funeral, held on the Drostdy Lawns at Rhodes University, was the culmination of a week-long social sculpture project that forms part of a growing practice-based research initiative incubating at the ELRC and Sustainability Commons called The Institute of Uncanny Justness: Re-imagining Learning Through Suitably Strange Creative Practice in the Era of Climate Change".
During the week, students, staff and visitors may have come across someone playing 'pallbearer' to dead e-waste on and around the Rhodes University campus. Day in and day out, they shouldered the burden of other people's waste. We heard their personal experiences of staying with the troubling of growing electronic waste on campus and around the world. Yet what exactly is the e-waste crisis and why is it significant to South Africans, and Africans in general? McGarry continued:
"... And as we grow, and as our culture gives birth to new electronic cultures, surely with birth comes death, the hardware can no longer hold the new updates, the screen flickers, the toaster trips the mains, and they are unplugged, and discarded … disposed.

This leaves us in a difficult predicament that can be best expressed by this little story told by the artist Laurie Anderson, called The Beginning of Memory:

There's a story in an ancient play about birds called 'The Birds'
And it's a short story from before the world began - from a time when there was no earth, no land - only air and birds - everywhere

But the thing was there was no place to land - Because there was no earth -
So the birds just circled around and around - Because this was before the world began

And the sound was deafening. Billions of songbirds everywhere

And one of these birds - was a lark - and one day her father died
And this was a really big problem because - what should they do with the body?
There was no place to put the body because - there was no Earth

And finally the lark had a solution - She decided to bury her father in the back of her own head … and this ... was the beginning of memory - Because before this no one could remember a thing. They were just constantly flying in circles, constantly flying in huge circles

McGarry went on to share that like Laurie's songbirds, and the Lark, we have a corpse that cannot be buried, bodies that have nowhere to rest. We might throw away our waste, yet this away does not exist. McGarry asked the mourners: "Where is this illusive away? This imaginary abyss, a convenient mythical black hole that somehow swallows all that we dispose and discard?"
He shared the story of Chien Lee in Guiyu, China, a place that has been the "away" for many years now. She lives in a recycling hub where her and many others heat circuit boards over coal fires to recover lead. Some days she uses acid to burn off bits of gold. She has had seven miscarriages in the last six years. In fact, her town has the highest level of cancer-causing dioxins in the world and fastest-growing epidemic of miscarriages.
McGarry shared another "away" in Accra, Ghana, where Sam died of liver cancer at the age of 22 from exposure to recycling discarded laptops with his bare hands, with no protection from the fumes simmering off the burning mounds of motherboards.
"The levels of lead, mercury, arsenic, cadmium and chromium in the rivers here is only matched by the levels found in the citizens' bloodstreams," said McGarry.

The reality is that poor countries become the burial grounds for our e-waste. Recently, China has developed policy to protect their citizens from being dumped with the world's e-waste. We consumerist larks, the gadget-addicted songbirds that circle looking for land, search for a place to bury our accumulating corpses. Sadly the place that has been found is Africa. This continent is the future burial ground for the world's e-waste – and the fastest-growing contributor to e-waste in the world. It seems the future of Africa has a lot to do with the future of how we decide to bury our electronic artefacts.
So what is being done about this issue at Rhodes, where huge amounts of e-waste are being produced every year? McGarry invited people who are at the frontlines of Rhode's e-waste response, like Stores Administrator Anton Kivitts, to attend the funeral. Kivitts is not unlike a mortician, managing and safeguarding the university's e-waste morgue. He does this over and above his job description in order to ensure e-waste does not get dumped.
Kivitts explained: "When we first made the shift from typewriters to computers, there was a mountain of electronic typewriters scheduled to be dumped, and this did not feel right, so I created a space to store them, protect them from being thrown away until we could find a place to recycle them."
This action did not come without its challenges; Kivitts and his team at Furniture and Asset Stores have to catalogue and record each item before they store it for recycling, which is over and above their job description. Imagine having to record and catalogue every item of wrapping or packaging you used in your life!
McGarry explained that the e-waste funeral was not merely an environmental awareness campaign, nor was it a publicity stunt, but rather a deep social learning process that was aimed at facilitating an embodied arts-based approach to learning in complex contexts and with nexus problems.
"It is connected to our transgressive learning research," he said. "The objective of the funeral is to understand and 'feel' into the many issues that surround our relationship to technology, to capitalism and to understanding our addiction to disposability, as well as to create a space for key individuals and departments on campus to share 'eulogies' of struggles they are experiencing with managing e-waste disposal here in our immediate environment."
Jessica Cockburn, another post-doc fellow at the ELRC who helped to conceptualise and create the funeral, shared a moving eulogy to Mother Earth:
We're here to bury our e-waste. We want to get rid of it, to throw it away. But we now know, of course, that there is no away. If we buried our e-waste it would go deep into your tummy ... and as it began to fall apart its toxins would seep into your veins. And eventually you might get sick and die ... like the elephants in India and Zimbabwe that have died from eating plastic. And if you died, then we would all die; and then there would be no-one left to come to our funeral. Dear Mother Earth. Please help us to help ourselves with this e-waste problem we have created. We don't know what to do. We need your ancient wisdom.
Currently the university is finalising a contract with an e-waste recycling firm, that will ensure the towers of DSTV decoders from residences, the defunct heaters, fans, toasters, microwaves, computers, fax machines, and other e-corpses might be reincarnated in a new form.
Further, Art History Lecturer Rachel Baasch (who was a pallbearer for the week, along with her students) is aiming to create a new program with other members of staff and students to conduct practice-based research exploring innovative and creative use of electronic waste.
Jamie Alexander from Anthropology shared the possibility of developing ways in which our electronics could be 'jailbroken' or hacked to receive new updates, and therefore could be used longer, avoiding constant 'upgrades' for our phones and computers.
The discussions and reflections were cathartic and inspiring. As @therobe54 on instagram shared: "A deep interrogation of dead tech… so many fascinating reflections and questions today… praise for the geniuses who created it, praise for the gravediggers, organ harvesters, morticians' who responsibly recycle our dead teachnology (where possible). Questions about the corporations creating planned obsolescence, the exponential growth of Africa's contribution to global e-waste and our intimate relationship with/reliance on 'living' tech…"
The e-waste funeral will go on to be further developed as a change laboratory process and will be shared at the upcoming "Seedbeds for Transformation" conference hosted in Port Elizabeth in May by Future Earth.
Many asked after the funeral what will happen to the e-waste that they carried and left at the altar; the plans are to to create a permanent interactive travelling exhibition and display at the ELRC, and potentially at other sights around campus. Two schools in Grahamstown have also shown interest in using the e-waste to teach electronics in their curriculum.
McGarry ended the funeral by quoting Dr Kaunda, from Steve Biko's 1978 seminal text I Write What I Like:

"Africans being a pre-scientific people do not recognise any conceptual cleavage between the natural and the supernatural. We experience a situation rather than face a problem. By this I mean we allow both the rational and non- rational elements to make an impact upon us, and any action we may take could be described more as a response of the total personality of the situation than the result of some mental exercise. (Biko:1978, 48)

"Being guided by Biko, I would like us to use this experience as a way to allow the entire personality and reality of e-waste and the situation at hand to enter and digest within us. As we begin to search for alternative ways to bury our departed electronics, as we aim to transform them and hopefully reincarnate these e-corpses, we should first bury their spirits in the back of our heads, to create a new memorium in our own hearts and minds for this forgotten mountain of waste that is slowly building in the background. This is the first step we can make to dissolving the fallacy of a place called 'away'.
"From dust to rust, from ashes to agency, dear e-waste may you rest in peace, may we all flourish in solidarity."