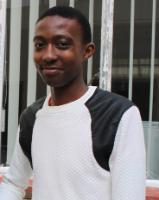 Rhodes University's Bsc second year student, Aphelele Ntlantsana received the Conrad Dylan Cambray Award for 2015 recently.
The award fund not only celebrates the life of Conrad Dylan Cambray who was killed while cycling but also celebrates the excellence he strived for.
To ensure that Conrad's strive for excellence lives on, his family with the help of donors around Grahamstown and Rhodes University started the Conrad Dylan Cambray Award Fund.
Ntlantsana said that he was deeply honoured and happy he got the award. He thanked the Cambray family, Grahamstown sponsors and Rhodes University for having such as a scholarship.
He said the award is an inspiration for him to work even harder. Talking about his career plans, he said he wants to first do research and gain experience through lecturing. He would love to have his own drug company, where he will produce drugs to help people who are suffering from diseases.
The 2015 recipient of the Cambray scholarship has been defined as a special case because he and Conrad went to Graeme College, this is the high school where their interest in science began.
Ntlantsana is the first recipient of the scholarship who comes from a Grahamstown school and has inspired current Graeme learners.
Present at the award presentation was the Cambray family who outlined the aim of the scholarship. Conrad's brother Dr Garth Cambray said their aim with the award fund was to recognise individuals who did not only define themselves as citizens confined to a country but rather citizens of the world.
Further stating that they hope those individuals that receive the scholarship can adopt a similar mind set as Conrad of seeing themselves as a citizen of the planet so that they can touch the world and not be constrained by the borders of the country in which they live. Conrad was a citizen of the world hence he made a difference at such an early stage of his life.
Professor Rui Krause thanked the Cambray family for supporting academically capable students who may not have the means to continue with their studies. Adding that the success rate of those who have received the Cambray award is very high, some have even graduated with PhDs.
By Nomfundo Lukwe