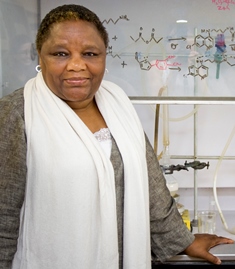 Rhodes University's Distinguished Professor Tebello Nyokong will discuss the use of combined therapies to fight cancer in Africa at the yearly General Meeting of The World Academy of Sciences for the advancement of science in developing countries (TWAS) on Thursday 3 October 2013, in Buenos Aires, Argentina.
Prof Nyokong holds the DST/NRF South African Research Chair Initiative (SARChI) Chair in Medicinal Chemistry and Nanotechnology, as well as the Director of the DST-Mintek Nanotechnology Innovation Centre focusing on sensors.
Prof Nyokong's research output is amongst the highest of any individual academic in South Africa. In 2012 she published 51 articles, all of them internationally peer-reviewed. It is an extraordinary achievement.
Her research includes making significant strides towards the effective treatment of cancer through photodynamic therapy, which is intended as an alternative to chemotherapy.
More than 300 researchers, top science policy officials and educators are expected to attend TWAS. They will engage in discussions and hear presentations on a range of critically important issues, including innovation in Latin America, cancer research in Africa, membrane-based technology for environmental protection, biotechnology for agriculture, and the social science of poverty.
On Tuesday 1 October, government ministers and their representatives from some of the developing world's science leaders will meet to discuss the development challenges their nations have faced, policies that have helped to advance science in those nations and plans for future progress. The session is expected to include speeches by Lino Barañao, Argentina's minister of Science, Technology and productive innovation; Derek Hanekom, minister of South Africa's Department of Science and Technology; Thirumalachari Ramasami, secretary of India's Department of Science and Technology; and TWAS President Bai Chunli, who also serves as president of the Chinese Academy of Sciences. The session also will include top officials of Brazil, Italy, Mexico and UNESCO.
"It's very exciting that TWAS is celebrating its 30th anniversary in Buenos Aires," said TWAS President Bai Chunli. "Latin American scientists have been centrally important to TWAS since the Academy's founding. And today, Argentina is a hub of global science, with innovation in fields ranging from agriculture to space technology. Such innovation will be essential to address global challenges that are growing in scale and complexity. I'm confident that at our meeting, we will hear some of the world's top scientists, from many countries, address these issues in ways that can be helpful for policymakers and the public."
"Promotion of productive innovation requires a more active government role, since social players usually lack formal structures," said Barañao. "Our experience indicates that the key for a prosperous science and technology policy is continuity in the goals and the focused energy of a professional staff. In this context, the TWAS meeting can play a significant role because it offers insights on both research and science policy that are useful for leaders in government, business and education."
Argentina in recent decades has taken great strides to build its science, engineering and technology sectors, and can claim influential accomplishments in fields ranging from biomedicine to astroparticles. The 2013 TWAS General Meeting is supported and co-organized by the Argentinian Ministry of Science, Technology and Innovation – created in 2007 by President Cristina Fernández de Kirchner – and the National Scientific and Technical Research Council (CONICET), an independent body under the ministry and the leading scientific institution in the country.