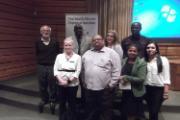 The Nelson Mandela Metropolitan University (NMMU) hosted the 2014 EC SACI postgraduate seminars at the NMMU Conference Centre on the 24th October. A total of 130 delegates attended the PG seminar. This year's PG seminar was unique because it adopted a different format in which apart from the chemistry departments from the four universities in the province, two students from INNOVENTON also participated in the seminar. The head of Chemistry at NMMU, Prof. Tommy Gerber, welcomed colleagues and students from all the universities in the EC and welcomed INNOVENTON specially being the first time that colleagues from the research enterprise were participating. He emphasized that the PG seminar is not a competition but an avenue for students from the different Universities in the province to showcase their research work and learn from each other.
The chairperson of the EC SACI, Professor Zenixole Tshentu, presented the outlook of SACI in the country and the province in particular. The issues raised in his presentation centred on the drive to improve membership especially in the province, students' chapter at SACI, the good financial standing of the province due to profit made from the National Convention hosted by WSU in 2013. He highlighted the SACI conferences for the next five year and emphasized the Inorganic Chemistry conference that Rhodes University will be hosting in June 2015. He also showcased the SACI medallist for 2014 and encouraged members to continue to seek excellence with the hope that more members from the province will be rewarded for their hard work in the near future. He ended by thanking the organisers and sponsors (Aspen Pharmacare, Lasec SA (Pty) Ltd, Heraeus South Africa (Pty) Ltd and Nelson Mandela Metropolitan University), who he said the event will not be possible without their support.
Ten students presented their research work, two students from each university and two from INNOVENTON. Five in the junior category for BSc Honours and first year MSc students while five students presented in the senior category comprising of second year MSc and PhD students. Unlike in the previous years, where presentations covered all areas of chemistry, most of the presentations were in the organic chemistry domain and three in materials chemistry. In the junior category, Sasha-Lee Dorfling (NMMU) came first on her presentation entitled "Enantioselective transformations using TETROL as a chiral mediator" and Sindisiwe Mvango (RU) came second (her topic dealt with "Optimization studies of glutathione self-assembled monolayers for gamma-glutamyltransferase detection". In the senior category Olamide Damola (WSU) came first (A green synthesis of type II water soluble CdTe core shell nanoparticles) and Alicia Singh (RU) came second (Fenchol-derived surfactant for the generation of chiral micelles).