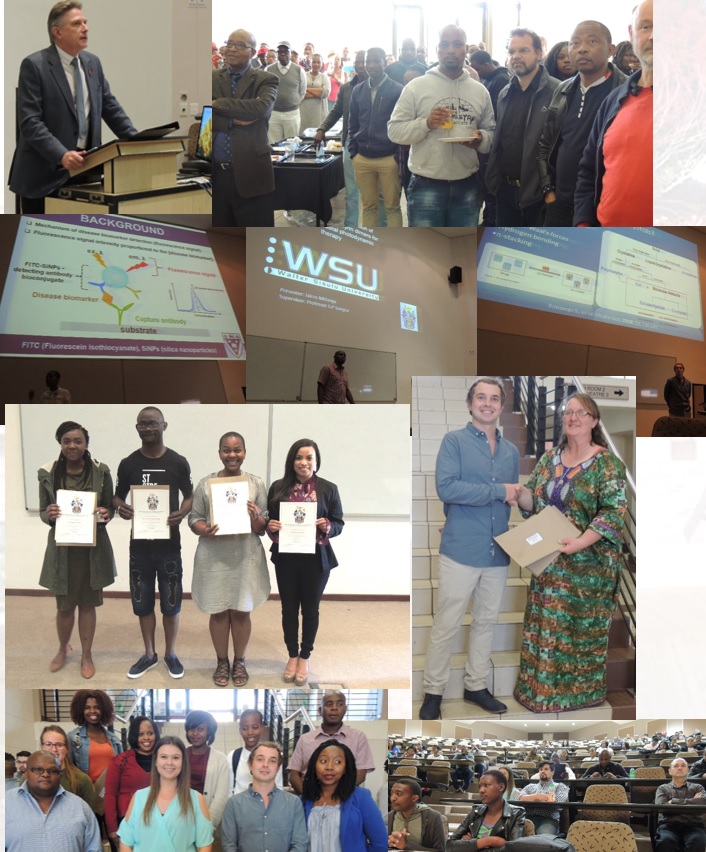 The ANNUAL EASTERN PROVINCE SACI POST-GRADUATE CHEMISTRY SEMINAR took place at Rhodes University on Friday October 20th 2017. The four Universities in the region were represented well by their speakers, presenting on a range of research from natural product derived plasticizers to theoretical studies. It was exciting to see such a high calibre of young scientists enjoying the opportunity provided by SACI. The afternoon of talks was followed by the awarding of the SACI Post graduate award to Christian Nkanga (Rhodes University) and the James Moir medals for the region. The participants and supporters then enjoyed a short cocktail party which provided opportunity for networking and catching up amongst academics and students before the prizegiving and the long drive to the respective cities for Walter Sisulu University (both Mthatha and East London campuses were represented), University of Fort Hare and Nelson Mandela University.
JUNIOR SECTION (BSc Hons, B Tech, 1st year MSc) – Chairperson: Dr P Tseki
Akhona Nqinambi (RU): Synthesis and characterization of fluorescence silica nanoparticles for biosensing applications
Lize de Jager (NMMU): N,N'-Bis(9-phenyl-9-thioxanthenyl)ethylenediamine: Highly Selective Host Behaviour in the Presence of Xylene and Ethylbenzene Guest Mixtures
Jairos Mhlanga (WSU): Synthesis and characterisation of phenylene linked porphyrin dimers for use in antimicrobial photodynamic therapy
Funeka Matebese (UFH): Synthesis, characterization optical and structural studies of Cus nanocrystals for the application in QDSSC's
Cuan Kruger (Rhodes): Exploring cocrystals
Yamkela Nzuzo (WSU): Aspects of Vibrational Overtone Spectra for Thiophenol and Derivatives in Hydrogen Bonding
SENIOR SECTION (2nd year MSc, PhD) – Chairperson: Prof G Watkins
Thabo Hasheni (WSU): Synthesis and Characterization of Triazole-linked Aminochalcones and 6,8-dibromoquinoline- 3-Carbaldehyde hybrids via Huispen 1,3-dipolar cycloaddition.
Tobeka Naki (UFH): Synthesis, characterization and cytotoxicity evaluation of nanocarriers for combination therapy
Kirstin Burger (NMMU): Synthesis and Characterization of Novel Plasticizer Compounds Derived from Eucalyptus Oil.
Sivuyisiwe Mapukata (RU): Laser induced photodegradation of Orange G using phthalocyanine-cobalt ferrite conjugates in nanofibers
The prize winners for each section were as follows:
Junior section First Prize: Cuan Kruger (Rhodes University)
Second prize: Ms Lizé de Jager (NMU)
Senior section First Prize: Sivuyisiwe Mapukata (Rhodes University)
Second prize: Ms Kirstin Burger (NMU)
Walter Sisulu University will host the seminars in 2018, the University of Fort Hare will host in 2019 and Nelson Mandela Metropolitan University will host in 2020.