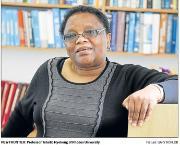 Academic to promote science and technology
INTERNATIONALLY acclaimed Rhodes University chemistry professor Tebello Nyokong is one of 12 scientists who were picked by United Nations secretary-general Ban Ki-Moon to form a panel to promote science and technology in developing countries.
Nyokong, the only South African appointee on the panel, will take part in discussions on the proposed Technology Bank and Science, Technology and Innovation Supporting Mechanism dedicated to the least developed countries around the world.
She will join the likes of Bruce Lehman, former US assistant secretary of commerce during both terms of the Clinton administration, and Mohamed Hassan, former secretary-general of the Third World Network of Scientific Organisations of Sudan.
The UN said: "The high-level panel is constituted in response to a request to the secretary-general by the General Assembly, during its 68th session, to establish a panel to examine the scope and functions of the proposed Technology Bank, its organisational aspects and its institutional linkages with the United Nations."
Nyokong, who said she was shocked that Ban "even knew I existed", was excited about the new venture, saying it would afford her a platform to help improve technology in Africa.
"I am extremely happy the secretary-general picked me because this area has been a passion of mine and I've done extensive research on it," she said.
"This gives me hope that I can meaningfully be involved in mechanisms for establishing a science and technology base on the African continent."
She will continue as professor at Rhodes and will jet off to Instabul, Turkey, in February to make a presentation of her recommendations on the initiative, which will help speed up structural transformation and sustainable development of developing countries.
Nyokong said she already had some ideas of what she would raise as she had a clear picture of the challenges facing African science research and technology development.
Topping her list of suggestions would be the creation of regional centres to facilitate research.
"People in Africa have the knowledge, but lack the resources and platform to impart it. Costs in technology are very important," she said.
"I hope being on the panel will be a start for me, being part of a solution.
"I hope to highlight the problems we face and be part of a team that suggests solutions."
She said South Africa was at an advantage in terms of science and technology, unlike the rest of Africa.
"My efforts will also help establish research in that area," she said.
"If South Africa is to win, we need to promote high technology knowledge.
"Without this, we will lose people to more developed countries, which will lead to a dreaded brain drain because of a lack of the right policies.
"If this [initiative] can achieve that, then great."
Nyokong said she was also excited by the fact that she would be part of a diverse team, bringing to the table a grassroots perspective as she was still in the classroom.
"The team I will be working with includes people with vast experience in science and technology policy."
NEW FRONTIER: Professor Tebello Nyokong of Rhodes University Picture: GARY HORLOR
By Zandile Mbabela
Source: The Herald newspaper