CD Rom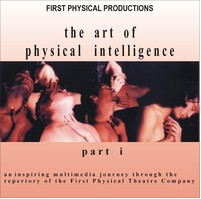 CD-Rom
Physical Intelligence on CD-Rom
The Art of Physical Intelligence Part 1
Designed to offer an inspiring journey through the repertory of the company, this CD-Rom is more than an archive resource; it features over twenty minutes of video clips, hundreds of images, sound clips and previously unpublished texts by Andrew Buckland, Reza de Wet and Gary Gordon.
The CD is presented in the context of a series of animations which illustrate 'archetypal' modes of creative output revealing a rich diversity in the company's work. The text version of this product is also available and can be used separately or together for learning and for general inspiration.
Physical Intelligence on CD is the first multimedia product from the company and the first of its kind in South Africa.
Recommended System
Pentium 500 Mhz PC
64 Mb Ram
Sound Card
8 Mb Video Ram
800 x 600 Screen Resolution
Microsoft Windows 95 or Higher
Last Modified: Fri, 15 Jul 2011 15:02:27 SAST