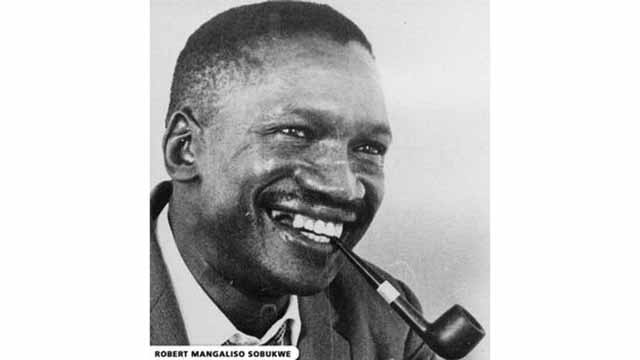 Today marks 40 years since the death of Mangaliso Robert Sobukwe - a teacher, lecturer, lawyer, founding member and first president of the Pan Africanist Congress (PAC) and Robben Island prisoner.
Sobukwe succumbed to lung cancer in 1978 after the apartheid government prevented him from receiving medical treatment by insisting that he comply with the conditions of his restrictions within Kimberly, despite his evidently failing health.
Passionate about the freedom of Africa, Sobukwe nicknamed 'The Prof' believed that education was the ultimate weapon with which black Africans could liberate themselves from mental and physical modern-day oppression.
In line with their transformation agenda, Rhodes University recently renamed a male residence after Robert Sobukwe. This was to ensure that young people at the University continue to celebrate his life and love for education. Formerly known as Jan Smuts, Rhodes will host a renaming ceremony for this and two other residences later this year. Since 2010, the University has been on an ongoing campaign to re-name their residences after African icons as part of this transformation process.
The youngest of five boys and one girl, Sobukwe's father worked as a municipal labourer and a part-time woodcutter, his mother as a domestic worker and cook at a local hospital. It is this undesirable state of being that made him determined to be educated and liberated.
His oldest brother exposed Sobukwe to literature at an early age while studying at a mission school in Graaf Reinet. He went on to study at Fort Hare University in 1949 where he assumed his first leadership role as the SRC President.
Sobukwe founded the Pan African Party to focus on African based solutions that prioritised the black African race who were the oppressed and impoverished race of his time.
The most recorded moment in the life of Sobukwe was the unfortunate massacre in Sharpeville that saw the death of 69 people. Sobukwe led a non-violent and disciplined protest campaign against pass laws on 21 March, known today as Human Rights Day.
Following the opening of his law firm years later in Kimberly where he was banished to, the Department of Justice denied him permission to enter the courts, except as an accused or as a witness. Additionally, newspapers were not allowed to quote him when he argued in court.
Sobukwe would have been 94 years old today. He is still known for his educational achievements and powers of speech and persuasion. He spoke of the need for black South Africans to "liberate themselves". His strong convictions and active resistance inspired many other individuals and organisations involved in the anti-apartheid movement, notably the Black Consciousness Movement.
Source: http://www.sahistory.org.za/