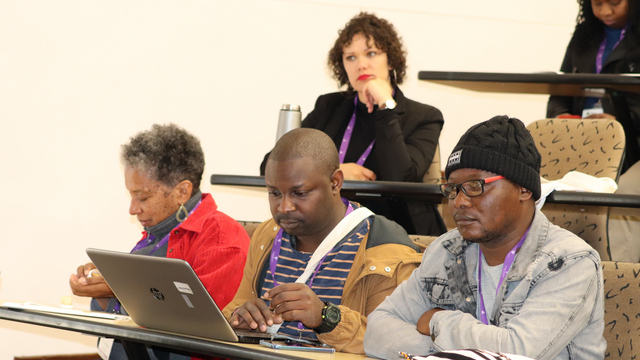 By Julian A Jacobs, PhD candidate, School of Journalism and Media Studies
Imagine there are no longer universities, where the spaces of higher education are no longer producing knowledge. Imagine these institutions were to become obsolete. This was the issue historians were grappling with during one of the afternoon sessions on the second day of the Southern African Historical Society conference at Rhodes University, entitled: "Universities: Politics and Policies."
The session started with Associate Professor from the University of Illinois, Theresa Barnes reflecting on a chapter in her latest book, Uprooting University Apartheid in South Africa.
The book investigates three historical dynamics in the relationship between apartheid systems and South African higher education. What is pertinent in her book is how the legitimacy of apartheid was historically reproduced in public higher education. In her talk, she mentions how University of Cape Town (UCT) was referred to as "Little Moscow on the Hill" by former apartheid intelligence boss Dr Neil Barnard, who claimed there were academics that were used as apartheid spies to relay messages to the apartheid intelligence bosses and international spy agencies operating during the Cold War era.
What she found was that there were unwitting and witting participants who did indeed spy for various crime intelligence services during this time. She also uncovered the existence of a spy ring at Rhodes University during the late 1950s. During her interview with Dr Barnard, he told her that if academics did not provide information, their institution would not receive money. The spy agencies would often recruit senior staff members who would be able to monitor who was lecturing anti-apartheid sentiment, and who was reading or teaching banned materials or other literature.
She likened the efforts of the intelligence agency of the apartheid regime to today's world of social media. During the Cold War era these agencies infiltrated student and staff organisations to influence outcomes to advance the apartheid regime.
Rehana Odendaal, a Master's student at UCT's Historical Studies Department presented on her work regarding "complicity and resistance – constructing publicness through the discourse of academic freedom at Wits University" during the 1950s. Wits University underwent several key moments in the 1950s that would ensure academic freedom became a reality.
In 1956, the Academic Freedom Committee was established. Then in 1957, Wits produced a co-authored Open University Booklet with UCT. And in 1959, Wits University held its first General Assembly where 1300 members turned up out of about 4000 students and faculty at the time. This was the beginning of real change at Wits and the recent #FeesMustFall movement further ensured that Wits became a space for resistance and change.
Rhodes University's Dr Janeke Thumbran's talk was "From Propaganda to Reform: The Institute for Plural Societies (IPS) and the Department of Information, 1975-1979". She spoke about the history of the University of Pretoria establishing the IPS, which allegedly acted as a conduit for the infamous Department of Information. The apartheid regime shifted budgets earmarked for other portfolios to this unit from 1973. Between 1974 and 1978 an amount of close to R60 million was redirected to this unit.
She reflected how the university was used to further the aims of creating apartheid South Africa as a plural society in line with the separate development agenda it was driving at the time.
The session concluded with the notion that universities today are still trying to rid themselves of their apartheid-linked shackles. This was highlighted by students during the #RhodesMustFall and #FeesMustFall student protests between 2015 and 2018. Getting rid of their colonial tags, colonial means of assessing students, and their colonial curricula is as relevant for universities today as it was during apartheid. Historians discussed whether universities should close their doors, and the consensus was that, unless universities becomes spaces of robust and open debates in the true sense, they may as well close down.
The 27th biennial South African Historical Society conference is currently underway. Topics explored include land and human settlements, politics and diplomacy, South African history in early feature films, immigrants and criminality, interracial marriages, understanding the rebellion of the poor, Botswana and the SADC region, and issues of defining performance black theatre during the 1970s.