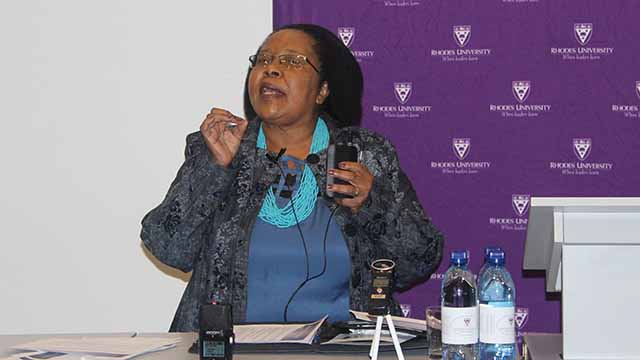 By Sphumelele Ndlovu, Postgraduate Diploma in Journalism and Media Studies student
The 2018 DCS Oosthuizen Memorial Lecture took place at Rhodes University's Eden Grove Blue Lecture Theatre on Friday, the 28th of September 2018. The annual lecture, now on its 60th year, is named after former Rhodes University Professor and Head of Philosophy Department, DCS "Daantjie" Oosthuizen.
The 2018 lecture was presented by Dr Nomathamsanqa Tisani who holds a Doctoral Degree (PhD) in History from Rhodes University and calls herself an "undisciplined academic" as her work and research is in Historical Studies and Higher Education Development. With the theme of the lecture being "Lost opportunities and pervading hope in South African Higher Education", Dr Tisani touched on how the systematic prevention of black students from fully and equally being part of higher education has resulted in the world missing out on the great ideas that were held by them (black students).
Explaining the structure of universities, which were separated into Afrikaans and English speaking and those for "Natives", Dr Tisani touched on how in 1959, the Extension of University Act abolished the Separate University Education Bill which meant that students of "colour" had to get written permission from the government to apply at former "Open Universities".
"Open universities were never open; they treated black students like children," said Dr Tisani. Dr Tisani believes that was what led Oosthuizen to question the so-called "academic freedom" of the time. "Rhodes would reject students from Nokholeji (University of Fort Hare) to do honours work, but they were saying they have academic freedom."
To further exemplify the blatant refusal to give "people of colour" a chance, Dr Tisani mentioned the "Mafeje Affair" which was when, in 1968, the University of Cape Town appointed Archie Mafeje as a senior lecturer, and the apartheid government forced the institution to withdraw the decision. "White universities had to reassure the whites that they hadn't gone 'fully native'," said Dr Tisani.
Dr Tisani further suggested that in starting the process of including different world views, Feminism and African Studies should not be treated as add-ons but must be worked into the curriculum. "We have got to unlearn all that we have been steeped in and we have to find out what is it that we have got to learn to move forward to forge a higher education for South Africa," said Dr Tisani.
Among the audience were the institution's Dean of Humanities Professor Tom Martin, African Languages lecturer Dr Mhlobo Jadezweni and former Rhodes University History lecturer Professor Nomalanga Mkhize.
Dr Tisani concluded the lecture by saying, "We need to help black students by teaching them the habitus - the rules of the game of Higher Education…we do not need to learn within the standing ropes, but we can take them and make them our own."