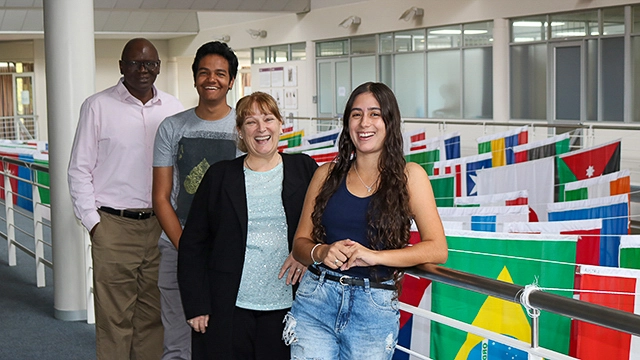 Two students from the Institute of Physics at the University of São Paulo, Brazil, are visiting Rhodes University on a staff-student exchange programme to learn more about the luminescence properties of natural Brazilian minerals.
Professor Makaiko Chithambo, Head of the Department of Physics and Electronics at Rhodes University, established the staff-student exchange programme with Professor Neilo Trindade of the University of São Paulo. The relationship between the two universities began when the two Professors co-authored a paper.
The programme allows students to visit the host university for one month or more, depending on their schedules, while remaining registered with their home institutions.
This is the first international trip for undergraduate student Isabela Ferreira and Masters student Matheus Cavalcanti, who are enjoying their experiences so far.
"This is such a comfortable city with no noise or air pollution," observed Cavalcanti. He further reflects on the size of his home city, São Paulo, which has a population of over 14 million, compared to the small and quiet city of Makhanda.
For Ferreira, the highlight of the trip so far has been the wonderful architecture, not just on campus but the buildings in the town, including the Cathedral of St Michael and St George. Beyond that, she feels that the cultures and people are reminiscent of what she is used to in Brazil, and she fully intends to explore the city more thoroughly before leaving.
"We are always delighted to welcome visiting students and academics on our campus at Rhodes University," said Ms Orla Quinlan, the Director of Internationalisation at Rhodes University. "It is especially nice to hear the enthusiastic first impressions and fresh perspectives of visitors who have never been here before. It's uplifting for everyone."
Source: International Office