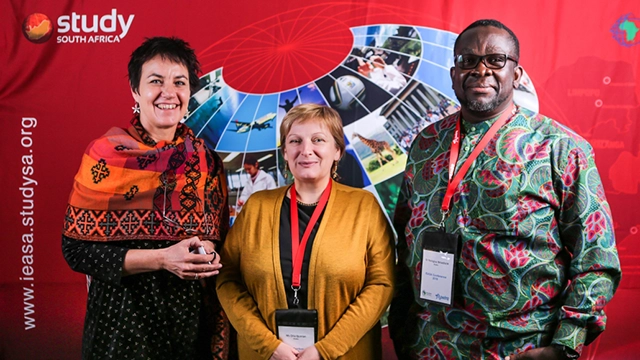 The International Education Association of South Africa (IEASA), the leading and only national organisation dedicated to higher education internationalisation in South Africa, is celebrating its 25th anniversary in 2023.
"Just over twenty-five years ago, the Rhodes University Registrar at that time, Dr Steve Fourie, was among a group of Deputy Vice-Chancellors and Registrars from South African public Higher Education Institutions who came together to discuss the practicalities of including an international constituency of academics and students in their institutions, in the post-apartheid era. This group became the founding members of IEASA. While much of the work on student-related matters they started continues today, IEASA has expanded and embraced the broader concept of comprehensive Internationalisation. It has established itself on many international education platforms worldwide," explained Ms Orla Quinlan, Director of Internationalisation at Rhodes University.
Looking back, IEASA's achievements, among others, include 22 in-person conferences held between 1997 and 2019 and two virtual conferences in 2021 and 2022. IEASA has published 19 editions of Study South Africa: The Guide to South African Higher Education between 1999 and 2019. IEASA is recognised in the DHET Policy Framework of Higher Education, alongside Universities South Africa (USAf), as an important non-statutory body in the Higher Education space and is the first point of contact for the Department of Home Affairs engagement with Universities through a formal MOU.
IEASA hosted the first Global Dialogue in 2014, which resulted in the Nelson Mandela Global Dialogue Declaration on the Future of Internationalisation of Higher Education (https://ieasa.studysa.org/wp-content/uploads/2019/11/nelson_declaration.pdf).
IEASA also hosted a Global Conference on the Internationalisation of Higher Education from 22-24 August 2016 at Kruger National Park. Rhodes University Vice-Chancellor Professor Sizwe Mabizela was one of two South African VCs who addressed the international audience at the opening of the Conference. More recently, IEASA was a Finalist in the Association of the Year category of the international PIEoneer Awards 2022.
Ms Quinlan has been a Council member since 2011. Professor Marius Vermaak, Ms Quinlan's predecessor at Rhodes University, had previously been a Council member. As IEASA President (2019-2020), Ms Quinlan provided leadership, during a period of great adaptation and innovation, in response to the COVID disruption to Internationalisation.
During that period, Ms Quinlan initiated a critical review of IEASA's governance, led the development of IEASA's first five-year strategy and spearheaded a revision of the IEASA Constitution, which involved working with a senior judge, who generously offered pro-bono services. In 2020, Ms Quinlan spoke at 20 international platforms online, including conferences, roundtables, webinars, and panel discussions hosted by universities and international education associations worldwide, as well as several South African events.
"Ms Quinlan is a consistently active member who continues to make a significant contribution to IEASA activities," acknowledged Dr Lavern Samuels, President of IEASA and the Director of International Education and Partnerships at Durban University of Technology.
Ms Quinlan has also consistently involved the Rhodes University community in IEASA activities. The Rhodes Library services assisted with digitising the entire collection of Study SA, and editions are available for download at: https://ieasa.studysa.org/publications-study-sa/.
Two Rhodes University Distinguished Professors, Heila Lotz-Sitsika and Tebello Nyokong, have been keynote speakers at IEASA Conferences. The VC, DVCs, and many academics and postgraduate students from the University have presented papers or participated in panel discussions at IEASA conferences or webinars.
The International Office staff has also played an active role. Ms Debby Wolhuter is a member of the IEASA Finance Committee, and Mr Dingaan Booi has assisted with collating the IEASA newsletter and conferences since 2019. "IEASA offers the opportunity to increase the knowledge, skills and experience of the newer professionals in our field," explained Mr Booi.
IEASA's vision is to advance the Internationalisation of higher education with an African perspective in a global context. IEASA's mission is to foster the interchange of knowledge and ideas, develop thought leadership and support strategic initiatives for maximum positive impact. IEASA relies on its members to achieve its vision and mission.
"Participation in IEASA affords the opportunity to connect to a professional and diverse network nationally and internationally. IEASA members alert each other to new developments in higher education affecting our professional field. We share problems impacting the international community and find solutions. Furthermore, we collectively represent the South African voice on global platforms," Ms Quinlan concluded.
Source: The International Office