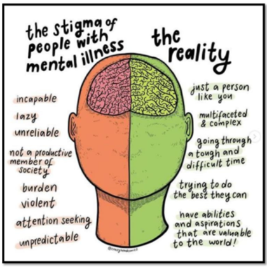 In accordance with the month of May being mental health awareness month, IWR joined in on a mental health conversation whose audience was drawn from different parts of the world. This engagement marked an important step in the institute's commitment to supporting the health (mental and otherwise) of both students and staff, particularly under the context of the COVID-19 pandemic, which is contributing additional strain. The institute was represented by Ms Mary Chibwe (PhD student) and Ms Phatsimo Ramatsabana (MSc student). The event (online) titled "Academic mental health: Breaking the stigma, seeking & offering support, and more!" was hosted by the Cactus Foundation and featured guest speaker Dr. Mary McMillan, a mental health advocate and senior lecturer at the University of New England. Cactus is a global non-profit initiative whose work supports and promotes a positive research culture.
Some key points
Mental health issues affect EVERYONE
Struggles with mental health do NOT equal weakness
Remove the "snap out of it" mentality, foster kindness and compassion and educate yourself!
Common risk factors that can affect the mental health of workers include; heavy workload, demanding deadlines and targets, unclear roles and responsibilities, challenging work hours, high emotional and mental demands, lack of recognition of feedback and bullying/discrimination.
Cultivate better work-space relationships and break the culture of overworking
Prevention and interrogation of risk factors is vital for building resilience
All individuals need to equip themselves with the knowledge and skills necessary to offer support to those who might be struggling with mental health illness
Some organisations have adopted a "Are you Okay day" where colleagues at a place of work take time to find out how their workmates are doing and engage beyond the traditional "how are you?" greeting.
Advocate for change, speak up and use positions of privilege to assist minority groups
The complexity and non-selective nature of mental health issues require a concerted effort from all stakeholders. No one model will work for all; crafting and developing work-space specific guidelines and approaches is valuable if students and researchers are to be empowered, valued, and supported in meaningful ways.
Useful links:
Cactus Foundation mental health survey https://www.cactusglobal.com/mental-health-survey/
Mental health first aid http://zealhealth.co.za/mental-health-first-aid/
Advocate for Mental Wellness in your Workplace https://paintedbrain.org/editorial/6-ways-to-advocate-for-employee-mental-wellness-in-your-workplace/
RVoice research community https://voice.researcher.life/
Source: P Ramatsabana