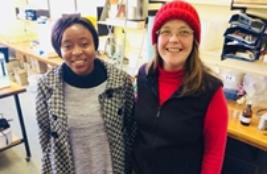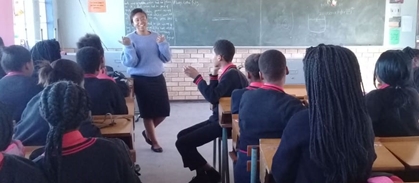 Wednesday 18th July is a celebratory day in South Africa – it's the celebration of Nelson Mandela's birthday. At Rhodes University that means getting involved and volunteering to do something ordinary, out of the ordinary or just participate in an event for 67 minutes. Margaret Wolff (IWR researcher) volunteered to read to the children at Cozy Nest. What a wonderful experience. Children between the ages of six months and five years old are cared for by the dedicated staff at Cozy Nest. The book was read quickly and repeatedly and then the little girls tried to braid Margaret's hair while the other children paged through books on the shelves. Young, enquiring minds, eager to learn and tell stories of their own lives. They deserve all our encouragement.
On Monday 23rd July 2018, Mateboho (IWR Master's student) went to visit Ntsika Secondary School as part of the

Tradi‌ng Live week hosted by the Rhode University Community Engagement division. The purpose of the visit was for Thandiswa Nqowana (an Environmental Health and Pharmacy Master's student) to give a report back on the water quality results which the students had collected for testing. The visit was a fruitful one as the grade nine students brought up some of their concerns regarding the water situation in Grahamstown and how they could conserve water. Interesting views were raised, which led to the talk about potential careers in the water sector where Thandiswa and Mateboho tried to show the need for more research in the water field in order to reach sustainable solutions.
‌
Source: Margaret Wolff
Please help us to raise funds so that we can give all our students a chance to access online teaching and learning. Covid-19 has disrupted our students' education. Don't let the digital divide put their future at risk. Visit www.ru.ac.za/rucoronavirusgateway to donate