Onelisa Slater
MA student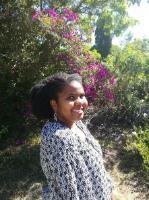 BA (Hons) (Rhodes)
Email: mmcimbi@gmail.com
Research interests:
isiXhosa morphology
Morphopragmatics
Thesis title: Ironic Negatives in isiXhosa
Supervisor: Ron Simango
This research explores ironic negatives as they occur in isiXhosa. Ironic negatives are linguistic constructions which use the grammar of negation to convey an emphatically positive meaning. In isiXhosa, the use of negative morphology can yield interpreations which are (a) unequivocally negative, (b) ambiguously negative and ironic negative, and (c) unequivocally ironic negative. The goal of this research is to account for the distribution of ironic negatives in isiXhosa as well as their limitations.
Last Modified: Sat, 13 Nov 2021 21:39:18 SAST