Postgraduate Studies
What the Rhodes University Linguistics Postgrad experience offers you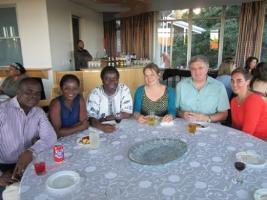 The Department of Linguistics and Applied Language Studies offers postgraduates a vibrant research community and a supportive environment for study. With all the facilities of a modern university combined with the charm of a small Eastern Cape city, the department is ideally situated to provide a warm and intimate atmosphere for postgraduate work. The department is fairly small and there are about 30 to 40 postgraduate students at any time, with about half in attendance. The small size of the department allows us to personalize the learning experience to the needs of individual students as much as possible. It also means that our students may sometimes be offered tutoring positions in the department.
Although we prefer postgraduate students to be present on campus, a number of our students live elsewhere, and have full-time jobs outside Makhanda (Grahamstown). For these distance students, regular visits to the Department are enormously beneficial and essential for ensuring good progress. For this reason we require that postgraduate students attend coursework modules, as well as the annual postgraduate conference and other meetings. We find that this flexible approach allows you to balance family and employment commitments with the rigorous demands of postgraduate research.
The Department of Linguistics and Applied Language Studies offers Honours, Master's and PhD degrees as either dissertation-only or combined short-dissertation-and-coursework options.
Postgraduate Programme 2020
To accommodate a wide variety of on- and off-campus students, some of our modules are offered in a compact form and others in an extended form. The amount of content and time spent is the same in each format, just the method of delivery varies. The compact modules are offered specifically with distance students in mind, allowing them to maintain their home lives elsewhere while studying further; however, all registered students are welcome to select either compact or extended modules, or a mixture of the two, for their degrees.
In 2020, we are offering the following modules:
Compulsory modules
Module 11: Research Project
Electives
Compact modules
Module 9: The Linguistics of Literacy
Module 12: Corpus Linguistics
Module 16: Language and Knowledge
Extended modules
Module 2: Optimality Theory
Module 3: Introduction to Minimalist Syntax
Module 5: The Acquisition of Grammar (subject to demand)
Module 6: Ethnographic Investigation of Language Practices
Module 8: Contact Linguistics (subject to demand)
Online modules
Module 17: Critical Discourse Analysis
To view more detailed descriptions of each of our postgraduate modules, click here.
Postgraduate Handbook
For more information about how we structure a personalized curriculum that is designed to maximally support you, download the comprehensive postgraduate guide from this link: Postgraduate Handbook 2020
Getting started
Take a look at these two pages for practical information on how to start your postgraduate studies in Linguistics at RU:
Last Modified: Wed, 04 Nov 2020 21:01:44 SAST