Associate Professor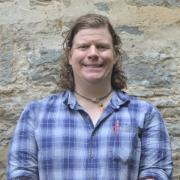 BA (Carleton College), PhD (Rutgers)
Email: w.bennett@ru.ac.za
Modules taught
Linguistics 1 Sounds of the World
Linguistics 2 Phonetics and Phonology
Linguistics 3 Phonetics and Phonology
Linguistics 3 African Linguistics
Postgraduate Phonetics and Phonology
Postgraduate Optimality Theory
Research Interests
My research interests are mostly on the sound-related side of the field: how phonetics, phonology & morphology (and sometimes syntax) interact. My work also focuses on under-represented/minority languages (particularly African languages), and I'm also very interested in endangered language description & documentation.
My most recent work focuses mostly on long-distance consonant interactions, including dissimilation and consonant harmony; and on describing & documenting Defaka & Nkoroo, two endangered Ijoid languages spoken in the Niger Delta.
Selected recent publications
Book
Journal articles
2014: Assimilation, Dissimilation, and Surface Correspondence in Sundanese. Natural Language and Linguistic Theory, DOI 10.1007/s11049-014-9268-2.
2014: Some differences between clicks and labio-velars. South African Journal of African Languages 34(2):115-126.
2014: Agreement, Dependencies, and Surface Correspondence in Obolo and beyond. Stellenbosch Papers in Linguistics Plus 44:149-171.
PhD dissertation
Conference proceedings
2012: Dissimilation By Correspondence in Sundanese. In Proceedings of the 30th West Coast Conference in Formal Linguistics (WCCFL 30).
2012: Two subject asymmetries in Defaka focus constructions. In Proceedings of the 29th West Coast Conference in Formal Linguistics (WCCFL 29). [With Akin Akinlabi & Bruce Connell]
2012: Defaka and Ijo: A reassessment of the

Ijoid

relationship. In Proceedings of the 6th World Congress of African Linguistics, Cologne 2009. [With Bruce Connell and others]
Last Modified: Thu, 23 Mar 2023 15:18:21 SAST