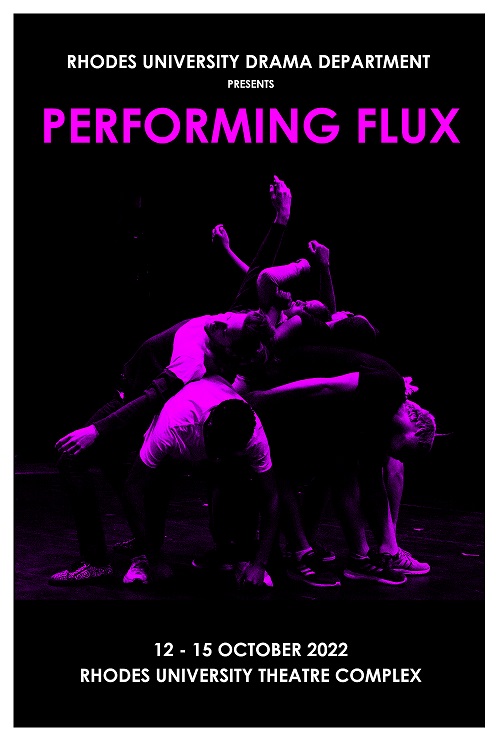 PERFORMING FLUX
PROGRAMME 1
HONOURS PHYSICAL PERFORMANCE
DRAMA 2 PHYSICAL ENSEMBLE
DRAMA 3 PHYSICAL PERFORMANCE
12 & 14 OCTOBER 2022
PLASTIC / ON BEING HELD – Rhodes Box Theatre, 18:00
BREAKING THE CURSE
& CLOSER – Rhodes Main Theatre, 19:00
PASTIC / ON BEING HELD
PLASTIC / ON BEING HELD is a performance that emerges a series of plastic places: cold and desolate. As the performers journey through this terrain, they ask how they might hold themselves and the others they encounter along the way. It is a place of hardness and softness; a place of bodies and things; a place of limitation and potential.
PLASTIC / ON BEING HELD is a performance work created by Julia Ruzyczka de Rosenwerth, in collaboration with the Honours Physical Performance students. It forms part of the final practical assessment for the course.
Performers: Joshua Arnold, Anele Cele, Jacques Hoefnagels, Munsaka Junza, Sune Jurgens, Khothatso Rapoo, Nikho Tsotsi & Zanele Tlali
Sound mixed: Julia de Rosenwerth
"Virgo Rebellion" – Caterina Barbieri
"Hetkonen" – Vladislav Delay
"Movement 1" – Mika Vainio, Ryoji Ikeda & alva noto
"Tumbling Relentless Heaps" – Abdul Mogard
"Uni Mia" – alva noto
"Movement 4" – Mika Vainio, Ryoji Ikeda & alva noto
"Bleeding Ink" – Loscil
Makeup design: Jamie-Lee Anthony, with special thanks for your artistry and vision.
BREAKING THE CURSE
Choreographed by Acty Tang with Yolanda Soji
We took inspiration from Beyonce's "Lemonade" album, with its themes of love and betrayal, spiritual inheritance, strength and forgiveness especially in black women's experience.
Performers: Anesisa Dimbaza, Sakhe Hoyi, Nokulunga Masia, Sange Mpambani, Sinazo Mqhamkana, Girlfina Ngwenya, Amahle Shibe & Lisakhanya Swartbooi
Music: Beyonce's Lemonade & poems by Warsan Shire
Stage Management: Siphosethu Duna
Breaking the Curse forms part of the Drama 2 Physical Ensemble course.
CLOSER
Closer is a performance work that explores notions of proximity. Working through the body's senses, the performers explore what closeness and distance mean for them both physically, mentally and emotionally. It is an episodic work that sees seven duets unfold over the course of the performance. Closer is accompanied by musician Thandeka Mfinyongo delivering original sounds on vocals, uhadi and umrhube.
Performers: Christelle Futshane, Silubonile Gqebe, Lulibo Makalima, Thato-Baholo Mangoali, Lelethu Mngxali, Angel Mthembu, Khanyisile Ncayo, Palesa Panyane, Sanele Phillip, Juandre Pillay, Nangamso Quma, Thabile Rala-Rala, Azole Tima, Teresa Willoughby.
Special thanks to Thandeka Mfinyongo for your expertise, artistry and time.
Closer was created with the Drama 3 Physical Performance students towards their final practical grade.
PROGRAMME 2
HONOURS LIVE ART
13 & 15 OCTOBER 2022
UN/FINISHED – Movement Room, 18:00
UN-INTENTIONAL DEATH – Rhodes Theatre Orchestra Pit, 18:30 (BY INVITE ONLY)
THE LAST FRAME & IN LIGHT – Rhodes Box Theatre, 19:00
UN/FINISHED
Created and performed by Martinique Kotze
Born from an unfinished dress, this installation represents the neural pathways of my gran's brain. My gran, who is currently suffering from Alzheimer's, loved to sew. One of the many things we have in common. Constructed from material gathered over the years of her life, these neural pathways reveal connections and disconnections to memories and people of, and in her life. Enjoy the journey and feel free to touch the material, to stop and listen to the music, to be in our world.
Music: Down Memory Lane (The Record) – The Bobby Hendricks Sound
Crew: Esihle Ndyolashe, Chuma Piliso
Special thanks to my supervisor, Gavin Krastin and to James Fourie.
UN-INTENTIONAL DEATH
Created by and performed by Anele Cele in collaboration with cast
"Awaiting death or help we see the consequences that comes with addiction"
Un-intentional Death is an offering that speaks about the strong addiction that comes with taking drugs. Drug use can be joyful at first, but because it is so difficult to overcome the addiction, people tend to dig deeper. Where do they reside at the end?
Cast: Minenhle Mbali Ndlela
Music:
"Kothbiro" – Ayub Ogada
"Therefore I am" – Billie Ellish
Stage Managers: Jamie-Lee Anthony; Mathapelo Mathole & Monde Rubushe
Special thanks to my supervisor, Gavin Krastin, and design supervisor, Illka Louw.
THE LAST FRAME
Created by Kgothi Rapoo in collaboration with the cast
The work is composed as a series of responses to how one experiences fatigue in a black body, this idea of the politics of exhaustion has been lingering on my mind for a while. Who has the right to be exhausted? When can one own their exhaustion without feeling guilty? When can one admit that they are feeling overworked? The exploration came about after realising that my body was slowly giving in as the months went by while realising that I had to go on. The devised process took place as a way to bring about the "score" that the body keeps.
Performed by Kgothi Rapoo, Tumi Molefe & Munsaka Juunza
Music:
"The Black Consciousness Movement" – SPAZA featuring Nonku Phiri, Malcolm, Jiyane, Gontse Makhene & Ariel Zamonsky
"Umthandazo Wamagenge" – The Brother Moves On
"United in Grief" – Kendrick Lamar
"Bayasiphazamisa" – SPAZA featuring Nonku Phiri, Malcolm, Jiyane, Gontse Makhene & Ariel Zamonsky
Stage Managers: Nine Magagula & Zanele Tlali
IN LIGHT
Created by Joshua Brayton Arnold
In Light depicts the interaction of light with the flesh. After enlightenment, the fear of the Lord is revealed as well as the revelation of sin. Only in the light, does The Light reveal our compatibility with Him through the blood. If you are in Christ, you are in light.
Performed by Anelisa Centani, Joshua Brayton Arnold, Kelvin Dube, Sifanelwe Mini, Tanduxolo Hanabe
Music: Soundscape and vocals by Joshua Brayton Arnold
Stagehands: Tendai Mashaba
PROGRAMME 3
DRAMA 3 CONTEMPORARY PERFORMANCE PROJECT
14 OCTOBER 2022
Mikha Jacobs: "Dreamcatcher"
This is a durational performance that will start at 11:00 until 19:00.
You are welcome to visit Mikha at your leisure during this time period.
Venue: Gel Room, 2nd Floor Drama Department Building
Simbiso Chuma: "The hard working hands of a black woman"
A video art work on the labour of black women. It will run from 14:00 until 19:00, and you are welcome to see it any time during this period.
Venue: Drama Lecture Theatre, 3rd Floor Drama Department Building (Take the stairs on the right, as you enter the Rhodes Theatre Café.)
BY INVITE ONLY:
Thibela Makua: "I found my way out alive"
Sometimes things hurt you deeply but you have to learn to let go and forgive.
Venue: Side Foyer (Red Room)
Nhlanhla Mavimbela: "Lewis, Israel and the Prince"
The hard lessons and growing pains of a queer 20-something.
Venue: Upper Studio
Mathews Nthinya: "Basotho Vogue"
An embodied act of activism against queerphobia.
Venue: Foyer outside the Box
Lehlohonolo Mokoena: "In the embrace of anime"
A young man learns to survive.
Venue: Lower Studio
Siphosethu Mahlasela: "Samsara"
The cycle of life, death and rebirth.
Venue: Garden
Candace Swart: "Rhapsody in Ink"
The messy, chaotic and manic world of a person with ADHD.
Venue: The Greens
Stage Manager: Luke Lumgair
Source: Rhodes University Drama Department