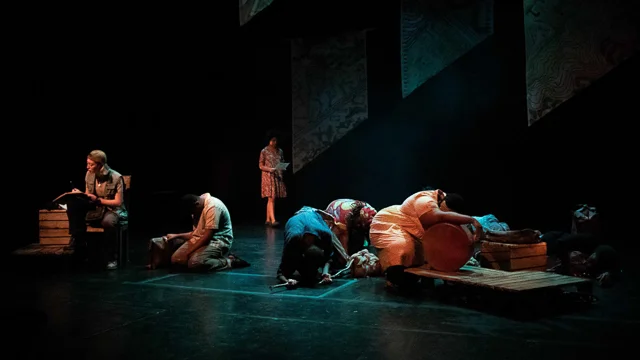 By Banoyolo Sicwebu
"What is a story? A story has a beginning, middle and an end. A story takes you into a different world and paints a picture. A good story contains a moral lesson, loveable characters; characters the audience can relate to and resonate with."
This sentiment set the stage for the recently-performed lyrical production (Not) A Place of War, created by Rhodes University drama alumna Thembela Madliki in collaboration with her cast. This opening line glued the audience to their seats in anticipation of the promise of a 'good story'.
The immense impact of war on a country, its citizens, their culture, and especially a budding new generation was bluntly illustrated to the audience through music and movement.
The lyrical production did not shy from starkly revealing the consequences of war - such as poverty, famine, a lack of security and the increasingly difficult task of a breadwinner to provide for their dependents.
After the show, creator Madliki explained how learning forms an integral part of the theatre. "In theatre, you are constantly learning – learning a new way to articulate a line, a new way to convey a certain emotion… and learning in general. Yesterday's show may be nothing like tomorrow's showing of the same play. Today an actor may forget a line or skip a scene; we are all human. However, being a director is anticipating and adapting to these human errors. Being in theatre is adapting to how dynamic an audience can be."
Madliki is a freelance theatrical maker and educator. Realising her passion for theatrical performance at a young age, she completed her undergraduate degree, honours degree and master's degree in directing at Rhodes University. "Studying at Rhodes University presented many opportunities for me to grow and succeed as a director," she said. Madliki mentioned how access to the National Arts Festival and its focus on celebrating and promoting young artists contributed to her success.
During the pursuit of her honour's degree, Madliki recalled that for an exam in 2015, she had to put on a 30-40 minute play as part of her young directors' season project. Entrants competed nationally against the likes of the University of Cape Town and Tshwane University of Technology. Her play 'Nyanga' won Best Student Production that year. She also won the prestigious 2017 Standard Bank Ovation Award for her play Bayephi at the National Arts Festival.
Other dramas produced by Madliki include Where She Walked, Galela and Abebi, and she spent three years as a Lecturer in Theatrical at AFDA in Cape Town.
Madliki prefers a collaborative directing style, which allows the final production to represent her entire cast. "Studying at Rhodes University showed me the importance of peer assessment. We all have stories to tell from different communities; our experiences and expertise are not the same. Therefore, when directing, I prefer all our voices and experiences to be integrated into the final product. I believe this makes the production more authentic," she concluded.
Source: Communication