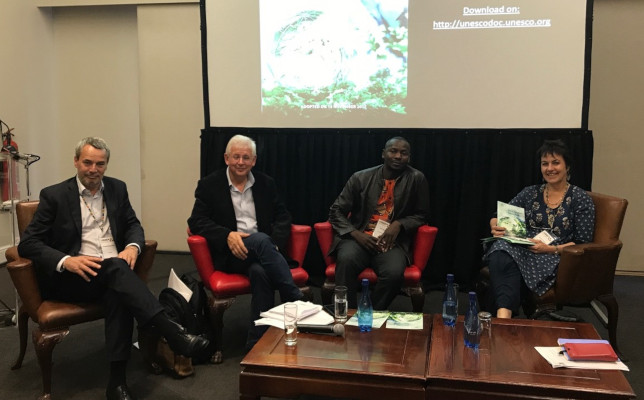 An interesting new development in responding to climate change is UNESCO's Declaration on Ethical Principles in Relation to Climate Change. Educational approaches to climate change ethics formed the focus of a panel discussion convened by UNESCO at the recently held 6th International Conference on Ethics Education in Stellenbosch, South Africa.
Here, on the afternoon of 4th December, Professor Lotz-Sisitka from Rhodes University joined philosophers Professor Johan Hattingh from the University of Stellenbosch and Dr John Mweshi from the University of Zambia in deliberating the importance of education for enabling a stronger focus on climate change ethics in society. Professor Hattingh served as international chair of the committee that developed the declaration.
The panel was chaired by Phillip Muller-Wirth from UNESCO's Regional Office for Southern Africa. He explained the significance of the Declaration, noting that it had been formally ratified by UNESCO member states in November 2017. He emphasized the importance of this, as it means that governments around the world have agreed to give attention to climate change ethics in their policies and practices.
The Declaration calls upon states and pertinent actors to promote the following six principles in responding to climate change:
Prevention of harm
A precautionary approach
Equity and justice
Sustainable development
Solidarity
Scientific knowledge and integrity in decision-making
The panel agreed that the Declaration could serve as an important tool for education, awareness-raising and advocacy to support values-based responses to climate change. Professor Hattingh mentioned the possibilities associated with a Declaration focusing on principles, as this allowed for flexible responses at different levels. Dr Mweshi noted the importance of expanding our attention to see climate change not only as a science and policy issue, but also an ethical concern. Participants added their voices to the panel, and suggested that the Declaration could be used to mobilise transformations across higher education settings, as well as other educational institutions and policies.
"The Declaration is beautifully crafted; simple and clear. It holds a lot that can assist teachers and educational policy makers to review existing educational policy and practices", said Lotz-Sisitka. "It can also be used by youth and communities as a means of reflection and generating situated action-responses to climate change".
This Declaration comes at a time when the world's attention is focused anew on the radical implications of climate change. The IPCC recently released a new report on the state of climate change, in which it is mentioned that the world could see catastrophic impacts of climate change sooner than anticipated if radical shifts in mitigation and adaptation are not made in all societies across the world.
Ethical practices guided by the Declarations principles could go a long way to strengthening climate change responses in meaningful ways.
For a similar article please click here