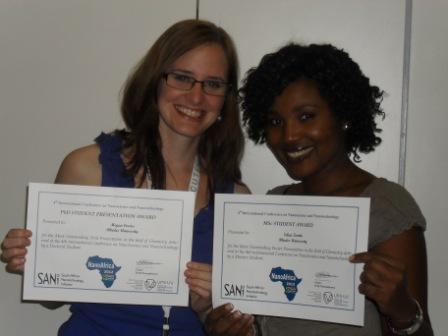 Ms Megan Coates and Ms Sekai Tombe of Rhodes University Chemistry Department were recently commended and awarded prizes for superior presentations of their work at the fourth international Nanoscience and Nanotechnology (NanoAfrica 2012) conference.
Scooping up prizes for the Most Outstanding Oral Presentation in the field of Chemistry by a Doctoral Student and the best poster presentation in Chemistry at MSc level respectively, Ms Coates and Ms Tombe say their passion for science has been enhanced by the outstanding supervision they have received at Rhodes.
The conference, which was organised by the South African Nanotechnology Initiative (SANi) and hosted by the University of the Free State Physics Department represented a range of disciplines including Physics, Chemistry, and the Biological Sciences, with over 150 delegates from America, Germany, Australia, India, China, Pakistan and Kenya.
Participants included a range of accomplished researchers, speakers and students including four plenary speakers, 14 keynote speakers, 65 oral presentations and 58 posters.
As the Rhodes based Nanotechnology Innovation Centre (NIC) - Sensors funded students, Ms Coates and Ms Tombe represented their laboratory along with Mr Edward Sekhosana, Ms Mary Cromhout of Professor Janet Limson's Biotechnology laboratory and senior group member and supervisor, Dr Edith Antunes.
The themes of the conference included the production of nanomaterials, nanomaterials for sensors, health, water purification, energy applications, and the risk assessment and safe management of these nanomaterials.
According to Ms Coates, such conferences are very important in the formation of research collaborations, both nationally and abroad, and provide an opportunity for students to present their own work as well as to see the level of research being done in their areas of interest.
Ms Coates's presentation was on a portion of her PhD studies, which involves the use of carbon nanotubes in the construction of a sensor that could potentially be used for the detection of pesticides, toxins, or other pollutants.
"I feel very happy and grateful for this award, and am very thankful to the DST/Mintek NIC, Rhodes University Prestigious Scholarships (Henderson), and the DST/NRF Innovation Scholarship for enabling me to continue my studies to this level.
"I am also very thankful to my supervisor, Distinguished Professor Tebello Nyokong, whose belief in the importance of science communication has pushed me to improve my presentation skills to the point where I enjoy speaking about my research," she said.
Ms Tombe, whose poster presentation was one of 54 at the conference, said she is very grateful to her supervisors Prof Nyokong, Dr Antunes and her labmates for all their help.
"To compete at an international conference and win at the same time was a great honour to me," she said.
Ms Tombe has also been elected as the Vice-Chairperson of the South African Nanotechnology Initiative Student Body.
One of the main funders of much of the Nanotechnology research conducted in South Africa is the DST/Mintek NIC, a national facility which houses one of the University research nodes at Rhodes under the directorship of Prof Nyokong.
Story by Sarah-Jane Bradfield
Photo supplied