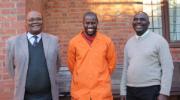 Dr Matshawe Tukulula is living testimony to the success and impact of the Khula Project, an extraordinary initiative created by Dr Ken Ngcoza of the Rhodes Education Department, Mrs Joyce Sewry of the Chemistry Department and Mr Reuben Maselwa of Eastern Cape Department of Education.
Dr Tukulula was one of the first learners to take part in the Khula Project, which aims to motivate learners in Grades 10 to 12, particularly those from disadvantaged township schools, to study maths and science at tertiary level. After matriculating, he went on to obtain a Master's in Chemistry (with Distinction) at Rhodes and a PhD from UCT.
Dr Tukulula grew up in Fingo Village, eMsengeni and attended Samuel Ntsika and Archie Mbolekwa primary schools. He shared with his young audience how he joined the club when his "role model" Mr Reuben Maselwa, who was a teacher at Nathaniel Nyaluza Secondary School at the time, spotted him listening after his entire class had been sent outside for misbehaviour.
Marking Maths and Science Week, he returned to his home town and his alma mater to present a talk accompanied by experiments before learners who are members of the Khula Project's Khanya Maths and Science Club.
The informative talk entitled "A Pollutant's Tale" is accompanied by practical experiments illustrating the composition of the Earth's atmosphere as well as outlining the effects of air pollution and global warming.
Wowing the learners by dipping flowers into liquid nitrogen and shattering them and making "elephant's toothpaste" by mixing hydrogen peroxide and dishwashing liquid, he focussed on the links between science and ecology.
"Nature is the best scientist of all time," he said, urging his audience to plant trees and reduce the use of electricity. He tested the learner's knowledge throughout the talk, interspersed with contemporary references to popular films and the global economy.
He concluded the talk by talking about his beginnings, inspiring the learners to not be deterred by the challenges of being from a disadvantaged background: "When you see people struggling around you, remember that is not your future," he said, visibly moved.
"I know how it feels, I was just like you, people who teased me for reading too much couldn't predict how the future would change. It may cost you sleepless nights, but if you work hard and persevere, you can make a good life for yourselves and your families."
Indeed it was a tumultuous moment both for him and his teachers, as Mr Maselwa had taught both Dr Ngcoza and Dr Tukulula in effect representing three generations of learning and success.
"He used to clean up the lab and set out the experiments for me, alphabetically," whispers Mr Maselwa, with a twinkle in his eye. "Now someone does it for him. Look at him now; we are so proud of him!"
Voyokazi Twani, a matric learner at Nombulelo Secondary School said she has benefitted a lot from the Khanya Club Project, especially with Organic Chemistry, which they are assisted with at her school twice a week.
Another Khula members; Bulelani Mthana and Paul Akambi, who are both in Grade 10 at Nombulelo, said the highlight of their year was staying at Amakhala game reserve. Bulelani says he used to chase the neighbourhood chickens away, but after learning about the birds and animals, he has a new-found respect for nature.
Dr Tukulula is currently conducting his post-doctoral research at Rhodes University under the supervision of his former MSc supervisor, Emeritus Professor Perry Kaye. His current research is directed at designing and developing engineered catalytic sites for various organic reactions. His other interests are in the field of medicinal Chemistry and he hopes that after gaining substantial experience in the industry, he will fulfil his dream of becoming an academic.
From l-r: Mr Reuben Maselwa, Dr Matshawe Tukulula and Dr Ken Ngcoza.
Photo and story by Anna-Karien Otto