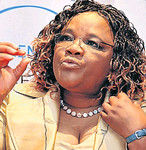 THE National Research Foundation (NRF) has awarded highly acclaimed Rhodes University academic Professor Tebello Nyokong a rare A-rating.
The NRF rating is a national indicator of research excellence at universities and, according to the foundation, an A-rating is only awarded to researchers who are "unequivocally recognised by their peers as leading international scholars in their field for the high quality and impact of their recent research outputs".
NRF manager of monitoring and evaluation, Joyce Olivier said the rating evaluation was based on the quality and the impact of Nyokong's research outputs.
Nyokong holds the South African Research Chair for Medicinal Chemistry and Nanotechnology at Rhodes and is the Director of the DST-Mintek and Nanotechnology Innovation Centre for Sensors.
A delighted Nyokong ascribed her achievements to hard work, dedication and capitalising on every opportunity she was afforded.
"There are no shortcuts to anything. You don't even need to be intelligent in this world – you just need to do the work and put in the hours."
Her promotion to the A category brings the number of A-rated researchers on the full-time Rhodes academic staff to two, said the university in a statement.
Rhodes Chair in Marine Ecology, Professor Christopher McQuaid received an A-rating last year. Rhodes deputy vice-chancellor Dr Peter Clayton said 22% of Rhodes University's academic staff were now NRF rated, meaning it had one of the highest proportions of NRF rated staff in the Higher Education Sector.
Nyokong has received numerous awards in recognition of her groundbreaking work in the fields of chemistry and nanotechnology.
Picture: GALLO IMAGES
Caption: NO SHORTCUTS: Professor Tebello Nyokong has become the second Rhodes University researcher to receive an A-rating from the National Research Foundation
Story by ADRIENNE CARLISLE
Source: Daily Dispatch