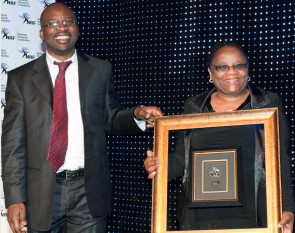 At a ceremony here the National Research Foundation honoured Professor Tebello Nyokong of Rhodes University for her lifetime of contribution in her subject field.
Nyokong is currently a Distinguished Professor in the Department of Chemistry at Rhodes.
Through the years, she has not only moved the boundaries of scientific research, but has also been a role model for women and the formerly disadvantaged individuals in science.
Derek Hanekom, Minister of Science and Technology, said it was an honour to have an academic and scientist of Nyokong's stature in the National System of Innovation.
Article Source; Die Burger (Eastern Cape)