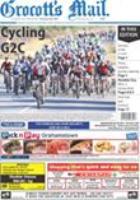 The Chemistry Department has introduced a new programme to supplement their Khanya Maths and Science Club for pupils from disadvantaged schools in Grahamstown.
Starting from Saturday 2 August the Khanya Maths and Science Club will introduce a formal revision programme for matriculants, where pupils can expect to be helped out with Maths, Physical Science and Accounting.
The programme will run from 9am to 12.30pm at the Rhodes University Chemistry Department.
For more information email j.sewry@ru.ac.za
By Tamani Chithambo
Source: Grocott's Mail